What is Meesho?
MEESHO (short for 'meri shop') has deemed to be one of the biggest startups in India currently.
Facebook-backed Meesho started out as a social commerce platform in 2015, often emphasising that empowering Indian women and making them financially independent by giving them opportunities to be an entrepreneur with zero investment is their core focus. It holds value in terms of selling through the website and reselling through social media applications such as WhatsApp, Facebook and Telegram.
---
Meesho Founder Story
Meesho was founded by IIT graduates Vidit Aatrey and Sanjeev Barnwal as FashNear. FashNear was also an e-commerce platform that was fashion-oriented, and soon after, Meesho was adopted. The company mainly consists of these four aspects; supplier, reseller, company, consumer.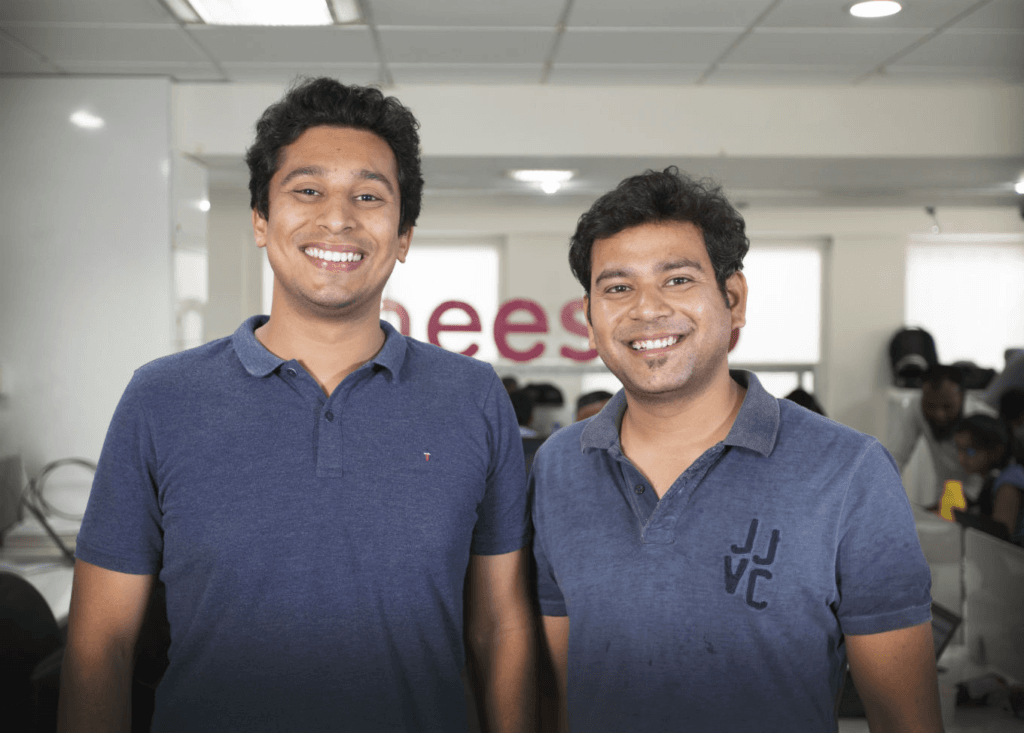 "After graduation, Vidit went into non-tech, while I joined Sony Headquarters, Tokyo for three years. I was responsible for creating new software layers for Sony DSLR cameras. After that, I joined Sony Mobile. This was in 2015. I was also trying to figure out what I should pursue next in life. It just happened that one of the startups in Bengaluru approached me for help. They needed help in building a chatbot. This is when I reached out Vidit as I didn't know the Bengaluru ecosystem quite well," Barnwal recalled.
Realising that a startup would be a long-term affair, the two left their jobs to start brainstorming and study market opportunities. "We just decided that there is no point in doing the job today if we are sure to startup tomorrow."
It took the founders two pivots to reach the point where Meesho is today. In the beginning, Barnwal said, they "were building something that is hyperlocal for fashion. What we were doing was very simple. We called it 'Swiggy for Fashion'."
---
Meesho's brand strategy
Much like the universality of its categories and buying/selling options, the company uses a multitude of media to advertise and market its suite of offerings so as to increase its consumer base.
👉🏻 "Brand marketing is all about creating awareness and consideration for the brand, creating a positive image to encourage users to try out the offerings. As we diversify into new categories and find newer ways to engage, the role of advertising is to create relevance in the users' mind" – Lucky Saini – VP & Head of Brand – Meesho.
Brand awareness creates association. Brand awareness can embed itself into consumer lifestyles and purchase habits so that they don't have to think twice before becoming a customer — time and time again. That is why Branding is very important.
What is Brand Strategy?
Make a plan, try to stick to it, and along the way, you'll get to assess whether the plan is succeeding or failing. If it succeeds – do more of it efficiently. If it fails – mitigate the situation, understand what went wrong in your plan, and go back to square one – that is Brand Strategy.
Let's look at 8 brand strategies and marketing strategies Meesho employed to build a credible brand.
---
🚀 BRAND STRATEGY 1. Sports Sponsorship
Meesho has also taken a step towards forging its first sports sponsorship with the Indian Premier League (IPL). The strategic move can also be dubbed as an attempt to become more appealing to male consumers.
As part of the deal, Meesho will be the official online shopping partner for the five-time champion Mumbai Indians, along with Royal Challengers Bangalore, Rajasthan Royals, and Gujarat Titans. As part of the tie-up, Meesho will be the lead trouser branding partner of all four teams.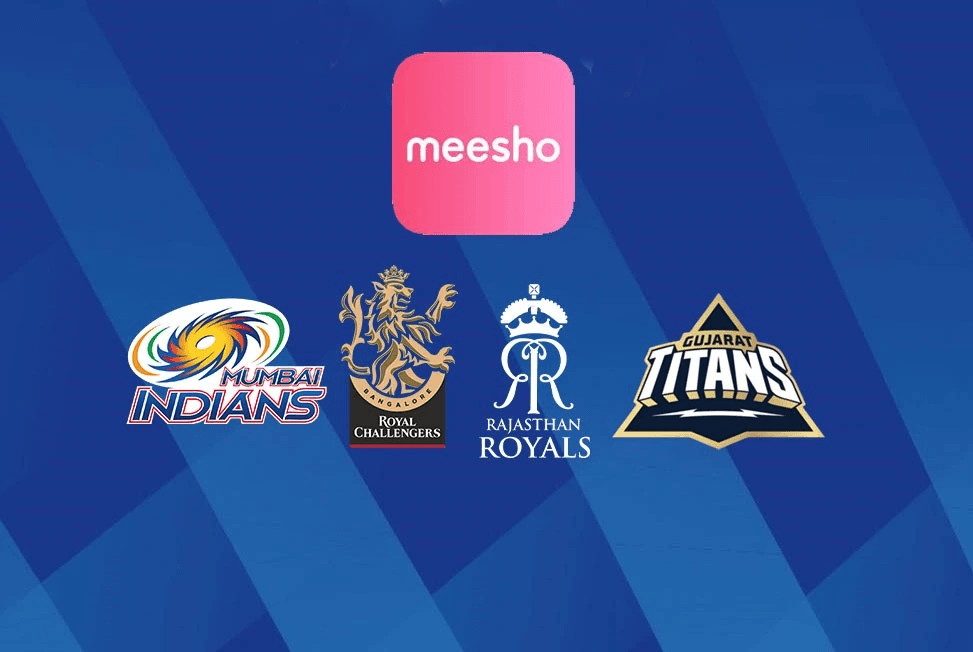 "The scale, reach, and popularity of the T20 league will be instrumental in expanding our reach and tapping into a new customer base. Sports is a great way to connect with our audience and make deeper market penetrations."
– Lucky Saini, VP & head of brand-Meesho
🚀 BRAND STRATEGY 2. Brand Ambassadors
Meesho Announces Annual Festive "Mega Blockbuster Sale,"announced its flagship festive sale event from September 23 to September 27, 2022.
To fulfill Bharat's festive shopping aspirations, the company will continue to focus on underserved users who have different needs around selection and affordability. Ahead of this year's festive sale, Meesho strengthened its regional foothold by adding eight new vernacular languages on the app: Bengali, Telugu, Marathi, Tamil, Gujarati, Kannada, Malayalam and Odia by onboarding ambassadors.
Meesho has also partnered with nine well-known celebrities across the country, namely Ranveer Singh, Deepika Padukone, Rohit Sharma, Rashmika Mandanna, Kapil Sharma, Trisha Krishnan, Karthi Sivakumar, Ram Charan and Sourav Ganguly, to spread awareness about the company's value propositions. These celebs will be seen in a brand new, quirky avatar, each of them donning the role of sellers in different categories and representing the regions they respectively belong to – building local relevance with customers across Bharat.
Meesho and Sourav Ganguly – Promotion or no Promotion?
Do you use social media regularly? Then you may have seen brands roping in celebrities to create a buzz around their upcoming products or services. E-commerce platform Meesho recently did the same and took help of several celebrities to generate curiosity about their upcoming project without revealing the brand's identity. Their promotional stunt, however, didn't go as expected when one of the celebrity's social media team made an error. Sourav Ganguly's team unintentionally revealed that the promotional post is for Meesho. The company also reacted to the whole situation with a witty post.
The screenshot shows how the post meant to be uploaded by Ganguly's team was posted without editing the instructions from the brand. Hence, a part of the caption read, "Please ensure that the MEESHO branding or hashtag is nowhere mentioned in September 1's post."
Since being shared a day ago, the post has gathered over 6,900 likes and the numbers are quickly increasing. "Very good spirit, sometimes we can be humble about our errors and still try celebrating it," wrote a Twitter user. "Good save," shared another. "Nice recovery guys," commented a third.
🚀 BRAND STRATEGY 3. Brand Campaigns
My Store My Story: TVC Campaign by Meesho
The TVC campaign #MyStoreMyStory exhibits a storyline for empowerment that correlates with their brand ordeal. MEESHO has approximately 17 million distributors, 15 million of them are women, and 60,000 suppliers on its network, which has over a million dealers. Hence, it brings into perspective the campaign towards their women audience.
The hardships of being a homemaker and being addressed by different names but the company creating an identity for women themselves was a campaign structure that DDB Mudra powered through. This entails the social barriers that women have to uphold to keep intact for the family and hence can also generate an income by doing a work they love. That wraps in up with the final ending line of 'Not just a homemaker, a Meesho Entrepreneur', as a slogan hold.
#IndiaBharPeChayega Campaign: TVC Campaign by Meesho
This campaign aims to help create awareness on how small and medium businesses can grow their business exponentially by providing them access to millions of Indian customers. Sellers can take advantage of the wide customer base, pan-India logistics, safe payments and customer support capabilities that will help them run their businesses with Meesho easily and efficiently. The TVC features prominent actors such as Deven Bhojani and Nitesh Pandey.
The new ad campaign targets audiences in metro as well as Tier 2+ markets.
Sahi sahi customer, toh business ek number: Digital Campaign by Meesho
the digital campaign highlights the 'Meesho Promise' of how sellers on Meesho can grow their business rapidly by aiming to change their perceptions around online shoppers.
It reiterates how customers on the e-commerce platform are looking to maximise their shopping experience within a budget. The campaign also has an on-ground leg in the form of 'Meesho Seller Express' which will traverse the country in a bid to engage with small businesses.
🚀 BRAND STRATEGY 4. Meesho Unique 3D Illustrations
Illustration has the ability to reimagine reality in a way that is familiar yet delightfully uncommon, which makes it particularly useful when an idea is difficult to explain. It's a powerful way to cut through distractions and relate complex emotions quickly.
Nothing is impossible when it comes to 3D Illustrations and elements. Moreover, they also focus on connecting humans to the world of digital products.
They create a world of fantasy with the manipulating digital elements.
Meesho uses exactly this and their graphics revolve around unique 3D illustrations. Right from Meesho's logo which is a 3D 'M' floating in the infinite space to their application models, 3D illustrations is driving the visual brand forward.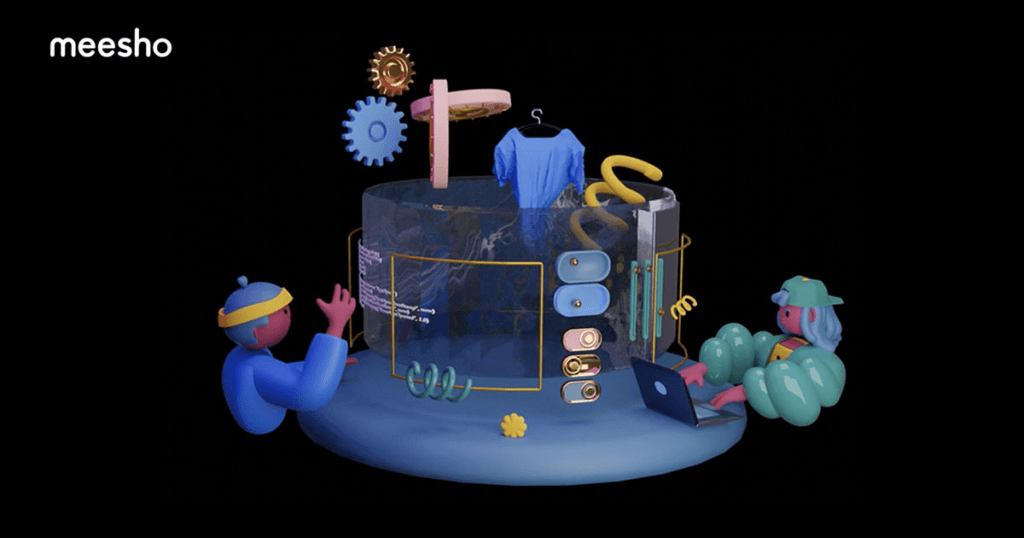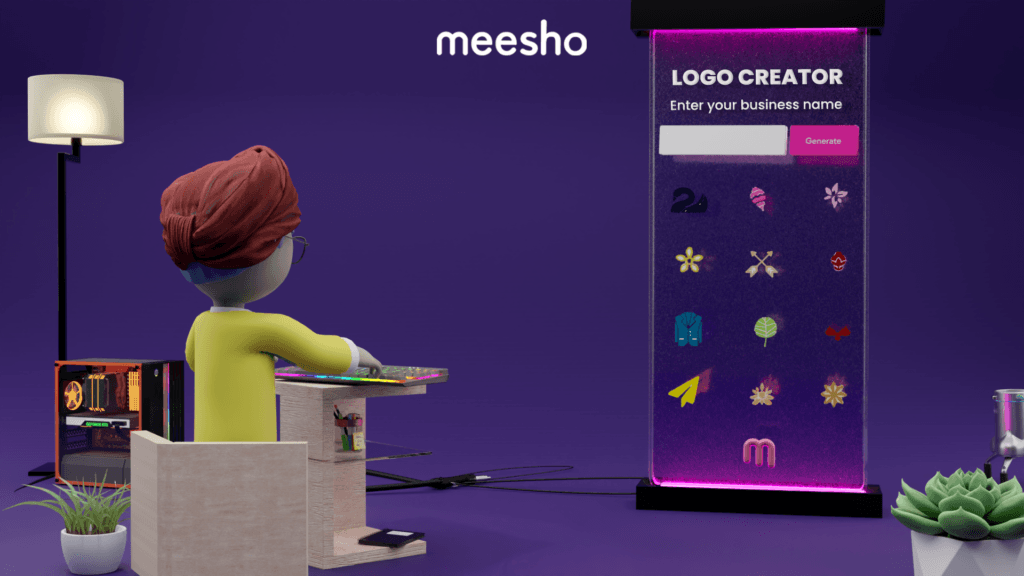 🚀 BRAND STRATEGY 5. Influencer Marketing
While the advertisements have piqued the interests of many, it is the entrepreneurs who brag about the quality of Meesho's service and products that gives credibility among potential users.
Enter the influencer marketing model!
The user growth team has been tinkering with Meesho's influencer marketing plan for over a year now. It was launched back in October 2019 with the hopes of scaling up in the first half of 2020. Although January saw some increase in their efforts, the Coronavirus pandemic set them back for a few months before picking right back up in a bigger and better way around June 2020. The biggest scale-up happened between June-October.
Many people that view the video and decide to check it out, save it for later while focusing on other work. So, while they do not click on the link right away, we do see that they search for Meesho and install the app later. Basically awareness and trial both increase, thanks to our influencers.
🚀 BRAND STRATEGY 6. Referral from resellers
Meesho branding is done through their resellers. For them, the customers are the resellers who bring in more resellers through referrals.
Our referral works among resellers and not buyers.
Meesho lets resellers shortlist products and share the photographs of these with their network of consumers, who could be anyone in their family or friends network or people they know. The resellers are allowed to sell at the prices they deem fit for their target consumers.
Once shortlisted by consumer, the reseller places the order with Meesho and enters the address details for the delivery which again is taken care of by Meesho.
This shows that Word of Mouth Marketing is very much alive. Let's look at the facts. According to Nielsen, 92% of consumers believe recommendations from friends and family over all forms of advertising.
🚀 BRAND STRATEGY 7. Meesho and Sideways Partnership
Meesho has partnered with Sideways for strategic guidance and creative development of their brand campaigns all year round. Sideways and Meesho have arrived at insights and learnings that inform all aspects of the business. Now, Sideways is working towards communicating the brand thought to the consumers. This will come alive across brand campaigns, sales promotions, general content, possibilities on the platform and experience design that will derive from the core brand thought.
Meesho will be doing for a billion Indians what the incumbent e-commerce players have not been able to do even after many years – truly democratize the power of ecommerce for a billion Indians. We are excited about the opportunity and hope to build one of India's most loved brands in the very near future.
– Abhijit Avasthi, Co-Founder, Sideways
We are absolutely delighted to go Sideways. In Sideways, we have found the right partner during this hyper-growth phase of our journey. They truly are a different kind of agency with an integrated team of strategists, creative folks and technologists who understand internet businesses and the pulse of Indian consumers. Together we aim to build Meesho as one of the largest internet companies in India and a brand that people love.
– Lucky Saini, VP & Head of Brand
🚀 BRAND STRATEGY 8. Building the right team
From recruiting to retention, hiring the right talent has been a challenge for startups across the world and Indian startups are no different. Barnwal said that while it's easier now to acquire talent, thanks to Meesho's brand value, it was not the case in the beginning. Convincing good candidates about the vision of the company and proving that the fit is right were challenges.
Take the example of Anjana Asrani who has joined Meesho as Associate Director – Communications.
Asrani's previous stint was with Puma Group where she worked as Senior Manager-Communications for three years. A communications professional with over 12 years of experience specialising in retail, Asrani has been in the past associated with organizations and agencies such as Uber, Target Corporation India, Weber Shandwick India, and MSL India. She has also worked as an intern at All India Radio.
---
Why is Meesho's Branding unique?
Even as the world closed its borders in the past two years, homegrown brands found markets opening up. Making the most out of emerging opportunities within the country, Indian companies, both small and large, new and old, are increasingly becoming representatives of the 'Make in India' ethos. Meesho, the reselling platform that is part of the Indian unicorn stable, is one such prominent name today.

👉🏻 In the era of Amazon and Flipkart, Meesho offers an entirely different experience in the form of a social commerce platform, an online platform for resellers.
⭐️ "We've generated over 500+ crores in income for individual entrepreneurs and customers in more than 4,500 Tier 2+ cities" – they claim.
⭐️ Meesho was identified as India's most downloaded app in 2021, and has seen funding from sources including Meta and SoftBank.
⭐️ With 15 million entrepreneurs, Meesho is helping many more people realize their entrepreneurial dream without any capital investment and from the convenience of their homes.
Helping regional brands achieve scale
Sreedhar Prasad, internet business expert and former partner at KPMG, believes that there are many regional brands across categories that are widely accepted in two to three states and Meesho can take them to a national level.
"They will be Rs 200-500 crore top line. If the move is to take these mass-market middle-class brands pan India then it is a good move because nobody has been able to give such brands national level scale. These brands are also available across big ecommerce platforms such as Flipkart and Amazon but they have not received the focussed promotional or marketing approach that Meesho could provide," he explains.
"Another tricky part is when you onboard a new set of mass-market branded products, how do you create and communicate the differentiation of unbranded and branded goods on the platform since today the approach appears more on value than brands," he concludes.
---
What can we learn from Meesho's brand startegy?
🚀 Target Marketing – Find your audience. Figure your niche. Run campaigns.
🚀 Leveraging Social Media, Ambassadors, Influencers – Use and leverage all communities of people to help build a people forward business model.
🚀 Building internal and external branding – Deep dive into team branding. Explore visual branding.
---
Want to build your company's brand strategy?
We are a Branding agency in Bangalore, and we believe in building brands with purpose. From creating your initial brand strategy to the visuals, our approach to branding sprouts from answering the 'why'.
If your brand needs branding assistance, reach out to us and we would love to help you identify and share your brand story, the right way.
---