What is Branding?
Let's look at some literature first.
"Branding is endowing products and services with the power of a brand"

Kotler & Keller, 2015
Branding is the process of giving a meaning to specific organization, company, products or services by creating and shaping a brand in consumers' minds. It is a strategy designed by organizations to help people to quickly identify and experience their brand, and give them a reason to choose their products over the competition's, by clarifying what this particular brand is and is not – The Branding Journal
Branding is the marketing practice of actively shaping your brand. That's the basic definition, but there is so much more that goes into it. When you design a logo, that's branding. When you develop your brand voice, that's branding. When you get together with your marketing team to brainstorm an ad campaign, that's branding. Any action you take to shape your brand is, in a nutshell, branding – 99 Designs
"Brands are essentially patterns of familiarity, meaning, fondness, and reassurance that exist in the minds of people."

Tom Goodwin
A brand is a customer's gut feeling about a product or a company

Marty Neumeier
Cambridge Dictionary defines branding as "the act of giving a company a particular design or symbol in order to advertise its products and services."
Branding is the perpetual process of identifying, creating, and managing the cumulative assets and actions that shape the perception of a brand in stakeholders' minds – Brandingmag
Well, sorry Cambridge Dictionary, we completely disagree with you. You make absolutely no sense. You are confused between brand identity (aka. logo) and actual branding.
And it's not only Cambridge Dictionary but most brands and individuals confuse and completely misunderstand Branding by limiting it to it's visual elements and aesthetic components; Visual identity including the brand logo, colors, and typography.
Branding is establishing the emotional connection.
Let me repeat – Branding is not limited to it's polished outlook. Branding goes way beyond just a logo or the graphic elements.
Branding requires a lot of effort. Branding is designed. Again, when I say 'designed', I don't mean visual design here. When you hear a brand name, what comes to your mind is designed. It is carefully planned and strategically crafted and built. While some are designed well, some are designed poorly, and some just happen.
If you allow your customers to decide what the brand stands for, it can take a different route than what you intended. And trust me, no business owner should do that. By actively understanding and shaping your brand's personality you can take your brand reputation in your own hands.
Branding vs Marketing
Branding establishes the why behind the brand, the look and feel, the positioning and differentiator in the market place. All of it combined is the beginning of the branding. And then it gets complicated. Branding is something that gets people to come back, and marketing is something that brings people to you in the first place – Fabian Geyrhalter
Branding done Visually – Visual Branding
We use symbols, language and marks to convey what a brand is, so that others can understand it and relate to it. People first see colour, then they see shape, then numbers and letters, then they may read – Debbie Millman
May be this is why branding is always misunderstood with visual elements, like logo.
Branding is the promise you make to your customers. More specifically, your brand is the set of emotions and perceptions that you intentionally cultivate around your business, which you constantly communicate to your customers through a series of visual and verbal cues.
Good aesthetics can make a brand easily identifiable and get your core message across.
The more attractive or appealing a website is perceived to be, the more likely web users will form a favourable behavioural intention toward the website – Barbara S Chaparro
Its true for almost everything in life. Visual appeal is an extremely important aspect of brand design – particularly when it comes to building a lasting relationship and brand affinity with your customers. Although, at the same time, it's important not to neglect the basics. You can read more about the importance of visual appeal in web design here.
Elements of Branding
Let me not start with Logo/ Brand Identity Design. Its definitely not the first element a brand need.
Branding should start with Brand Strategy and then Brand Messaging. And its not a one time process. Even after you set your foundations you will need to constantly update your Brand Strategy. It doesn't mean you change everything. As time evolves, brands also need to evolve. Sometimes with a new brand strategy, companies change their identity/ logo and visual look as well to relate to the new avatar.
Calendly is ditching its conventional branding for a bold yet simple look, which reflects its role in keeping things neat and convenient. The rebrand coincides with a period of growth and innovation at the company, which wanted to modernize its visuals to reflect its current and future capabilities and ambition.
Now let's look at some typical brand elements.
Logo – A logo is a brand's whole personality boiled down into an easy-to-recognize image. Well logo is a very important, but it's only one element of visual branding.
Color palette – Colors express key values and personality traits. The colors in your palette work together to express your brand while giving it a unique look.
Shapes/ Brand Patterns – Different shapes convey specific brand values and other aspects of your identity. Also its an identification element like the logo.
Tagline – It doesn't necessarily tell people what you do, it tells them what to expect. "Just do it" – the most well-known tagline in the world. Nike's message is clear: don't hesitate, take action. Get up, exercise, do what you know is right for your body and your mind—no excuses, just do it.
Tone of voice and vocabulary – A brand's tone of voice is the voice you read in all the copy produced by the brand, like the emails you receive from them, the content on their website and the language they use on social media.Starbucks developed their own unique branded vocabulary to differentiate their product offerings from other brands. Its not small, its short for them.
Fonts – Much like specific colors correlate to different emotions and traits, so do fonts' components. Type is always communicative, even if it wasn't designed with that goal in mind, but there are some great ways to really make it shout, font matters.
Imagery – Brand imagery works closely with other elements of branding, like color and shape. Brand imagery is one visual story-telling component of branding.
Positioning – Positioning is simply creating a space in the minds of the customer. A brand's positioning has a direct impact on its branding. Positioning is the niche in the market that a brand fills. When you determine your brand's persona, you determine not just what it offers buyers, but how it fits among other brands in its space.
Taste, Smell, Interactions, UX, UI, Sound, Location, Iconography are other elements of branding.
As you can see, building a brand means way more than just designing a logo!
Branding isn't a logo or identity design, it includes them because your logo and identity communicates a message to your users.
Branding isn't marketing, it not only includes your attempts at promoting your company, but products or services communicates a message to your users.
Branding isn't advertising, promotions, merchandise, taglines or messaging, it includes all of these things because that is how you reach out to new customers or acquire new customers.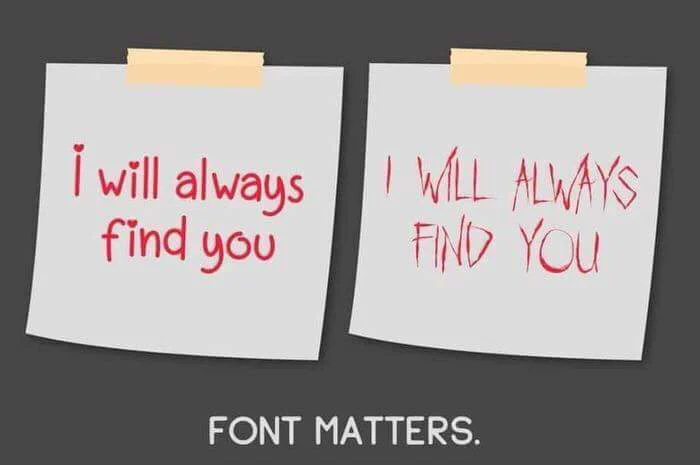 Why is Branding important?
Branding is absolutely critical to a business because of the overall impact it makes on your company. Branding can change how people perceive your brand, it can drive new business, and increase brand value – but it can also do the opposite if done wrongly or not at all.
It's just like your reputation, you are going to be judged anyway by the people you meet. Its your responsibility to give the right signals to build the reputation you want. If you are not careful enough and behave recklessly, even if the reality is something else, perception will build in a different way. And it is going to affect you one way or the other.
So, we said we build brands with purpose.
What is a 'Brand Purpose?'
Branding is driven by a brand purpose.
Purpose is the 'Why' : It answers why you exist. It is the higher-order reason for being a brand or a business that is driven by a reason than one that's solely focused on 'making profits' or 'maximizing shareholder value'.
Vision is the 'Where' : It tells you where you want to get to; It is futuristic. This is a destination you want your brand or business to reach in the future (e.g. 'We want to be the world's leading provider of X by 2020′).
Mission(s) are the 'What' : Mission(s) lays down what needs to be done in order to get there. These could be specific initiatives or tactics centered around product development, operational excellence, go-to-market strategies or brand communications.
'One Purpose: Many Missions' is a phrase that brings it to life for me.
Values are the 'How' : It tells you how you would like to behave in order to get there. What are the qualities or behaviors that shape the organizational culture of the company or the brand? For instance, curiosity, inclusivity, diversity of thought etc. More about brand purpose.
Why is Purpose important to build a Brand?
Its very similar to human lives. You will be happy in life if you have a purpose. Why do you exist, if you don't have an answer, your life can be all over the place.
Modern consumers want brands who stand for something. One of the biggest problem why brands fail is the lack of alignment between a business, its employees and its customers. A brand's purpose has to resonate enough and connect with its customers to get their buy-in. Only then the brand will be able to make an impact in the market.
Every contact your customer has with any aspect of your organisation is an experience they have with your brand.
Google: "To organize the world's information and make it universally accessible and useful."
Coca-Cola: "To refresh the world…To inspire moments of optimism and happiness."
Walmart: "Saving people money so they can live better."
Microsoft: "Empowering people and organizations to achieve more"
Amazon: "The most customer-centric company"
Apple: "Creating a better world through technology and design"
Nike: "To bring inspiration and innovation to every athlete in the world. If you have a body, you are an athlete."
Nike is all about inspiration. If you look at any of their ads they talk very little about their product. Its all about movement, action, inspiration, do something. When you own a product from nike you are becoming part of that community. You also want some of that action. That is exactly nike counting on.
Starbucks: "Our mission: to inspire and nurture the human spirit — one person, one cup and one neighborhood at a time."
A perfect and little expensive coffee shop that will offer customers delicious and rich coffee. They have developed strategic partnerships with business houses to sell Starbucks coffee in big companies and organizations. But Starbucks is a lot more than coffee. They are the first to introduce internet facility in their shops. So, it can be said that Starbucks positioned itself as a technologically equipped coffee store where people can sit, relax, chat with people over a cup of coffee and also surf internet or do their important work by utilizing internet facility. They literally hear their customer suggestions and implement them.
Their motto is to serve best coffee, provide best place and offer best services.
Starbucks' positioning strategy was 'Authentic Coffee, Great Experience and Quicker Delivery'.
Zappos: "Delivering Happiness."
PS: Key messages from "Delivering Happiness" by Tony Hsieh, the multimillionaire CEO of Zappos.
iD: "iD's product positioning is 100 percent natural."
Vision – To become a fresh food brand, admired and trusted the world over. To grow into a 1000 crore market leader. To become one of the best and most sought-after companies to work for.
Mission – To make the preparation of home-made meals a pleasure
Values – Speed, Simplicity, Authenticity, Integrity
Now customers do believe that any product that comes from iD will have a certain standard. That certainty is what helps customers to stay loyal to a brand. People don't like surprises, where consistency is expected.
Can you build a brand without having a purpose?
In certain categories and in certain countries based on many factors, many brands will be financially successful even if they don't follow a good purpose. But I would say its a matter of time. Either they will need to fix things moving forward, or the competition is going to use it against them.
"Companies with purpose last, brands with purpose grow, people with purpose thrive" – Kris Michiels, Marketing Director, Unilever
A quick glance at the world's most successful companies reveals they've all got one thing in common: they lead with their principles. Whether it's Apple and their commitment to disruptive innovation and change, summed up by 'Think different', or Amazon who are well on the way to achieving their aim of being 'Earth's Most Customer-centric Company' – brands that define, articulate and live a purpose simply do better.
"People don't trust brands, they trust what people they like say about them" – Ann Maes, FLRISH
Brands should carefully design that narrative people say about them.
A lot of this will not make sense to you immediately, because branding is not logical and so are people.
The expression that "People buy on emotion and justify with logic" has always made intuitively sense to me, but rationally it sounded nonsense.
When to Sell with Facts and Figures, and When to Appeal to Emotions
If you want to influence how a customer feels about your product, provide an experience that creates the desired emotion. One of the best ways for a customer to experience your complex product is by sharing a vivid customer story. And it's all part of the branding.
Now you know your Brand's Purpose – How do you position it!
What is Brand Positioning?
Once we have identified the brand purpose, vision, mission and values, we can build on the brand positioning. It is how we differentiate ourselves from our competition.
Now don't mistake the brand positioning with a fancy line or set of phrases that you can throw around. Your positioning line is crucial for everyone to be on the same page, but as a brand you need to live upto it and constantly communicate it, internally and externally.
A brand's positioning is the internal expression of its purpose. It is the guiding light of the brand. Your brand positioning is the heart and soul of your business – part of your business DNA.
PS : There are two types of branding – internal branding and external branding.
What is External Branding and what is Internal Branding?
An external brand communicates your company's promise to customers. An internal brand should align with and support the external brand, but it has a separate mission: to build a culture that engages employees and motivates them to deliver on that promise.
Communicating to two separate audiences requires two separate messages, and one shouldn't do the work of the other – RSW Creative
What makes a good Brand Positioning?
Built on factors that are important to the consumers, especially your target audience.
Unique enough that it sets you apart from your competition.
Consistently deliver on the brand promise, it builds trust.
Positioning that focus on unique selling propositions that your competitor cannot easily replicate.
Have a brand promise – what is the most compelling (emotional/rational) benefit to your target customers that your brand can own relative to your competition?
A successful brand position is all about the follow through
What is a Brand Promise?
A brand promise tells your customer, either explicitly or implicitly, what they can expect from your product or service. It sets their expectations on the quality of your products or services. According to Gallup, only about 50 per cent of customers expect a brand to actually deliver on what it says it will.
Advantages of having a clear Brand Positioning
A clear brand positioning can be instrumental in many ways. Let's look at some of the advantages and benefits you can reap.
Brand recall
Volvo is known for its safety first approach. Their core target audience is parents, they build products for families, and their unique point of difference is safety. Even though they do other things well, they want to own and claim the market position of safety. A brand positioning statement outlines exactly what your company does, for whom, and what makes you different.
"If you want to build a brand, you must focus your efforts on owning a word in the prospects' mind. A word nobody else owns"

Al Ries
Brand loyalty
Loyal customers are important strategic assets which gives the firm a sustainable competitive advantage over competitors. Apple is a brand with one of the highest levels of customer loyalty and this has catapulted them to the dominant position they enjoy today.
Apple is the world's most valuable brand and lego is the most powerful brand.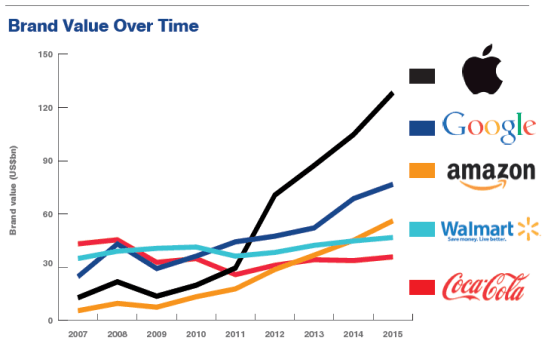 Market differentiation
Brand does not automatically differentiates a company from its competitors. The brand has to stand for something, be recognized by the target audience, and communicate something unique and different from the competition.
Compete on factors other than price
Successful brands like Apple and Starbucks are selling you much more than just computers and coffee-they're selling you the entire experience of interacting with their brand. Enables your brand to charge and sustain a price premium.
Emotional appeal marketing
Emotional marketing is marketing to the consumer's specific feelings to incite an emotional response. It works because your customers get a reason to attach themselves with your brand and with that comes brand loyalty.
This Helmet Campaign Poster by AIP Foundation (Southeast Asia) is one of the best marketing campaigns that induces an emotional response; fear. And this is one amongst many out in the market.
Cadbury India encapsulates the emotion of happiness and celebration in all of their marketing efforts. Cadbury dairy milk takes an integral part as a perfect gift for any kind of occasion, be it Diwali or Valentine's day. Consumers feel that they share love and affection when they gift the chocolate.
Even strategies such as limited-time offer/sale, free shipping, etc. play with the customers emotions; greed. Customers believe that they are getting more for what they are paying.
Value-based marketing
Value-based marketing is when brands appeal to customers on shared values and beliefs.
Let's take Dove for example. Dove uses values surrounding their mission statement. It amplifies the importance of 'real beauty' and stands for the idea that beauty can be found within, as opposed to other brands in the market. This factor alone makes Dove stand out and not look like a mere business-driven brand but as a group of individuals who care for the good of the society.
Consistent brand message and identity
Brand consistency can increase sales by 23% on average
Your brand message and identity needs to be consistent across all channels-If you are streamlining your look, feel and essence, you are doing it right. It is as much about the customer experience as the visual elements. Consistent, strategic branding leads to a strong brand equity, which means the added value brought to your company's products or services that allows you to charge more for your brand than what identical, unbranded products command.
Take Coca Cola for example, every bottle of coca cola retains consistent taste, every social media channel uses the same brand colors, voice and tone. Their primary messaging revolves around sharing happiness. When you see the white typography on red, you know it is Coca Cola without any doubt.
Direction for your marketing strategy
Having a clear brand positioning can give your marketing strategy a sense of direction. In today's age, integrated marketing communication and being omnichannel is vital. What's more important is to have a clear line of thought to align and unify the ultimate brand message. Take, Volvo, their marketing strategy is focused on primarily one thing: safety.
Attracts and retains the best employee talent
Today, employees are in search for a meaningful work. Take TATA for example. People desire to work for TATA because of the brand's values and positioning. Company culture also plays a vital role. Brands like Apple, who thrive on innovation, encourage out of the box thinking and hence attracts talents that believes and wants to be a part of the culture.
Word of Mouth Marketing
How do you know about the smartphone app Truecaller? I'm sure you heard your friends talk about it and use it and that's how you ended up using the service.
Word of mouth is still the most organic and powerful marketing tool as customers trust the words bespoken by another customer.
At the end of the day, a clear brand positioning will help you understand who you are targeting and what your brand stands for. This will enable you to be true to your values and consistent in your messaging. This creates a clear, concise and consistent picture of your company which means that your customer will have no difficulty in representing your company accurately. Your best salesforce is your current customers.
How to integrate your Brand Positioning in your customer's mind?
You should have brand positioning strategy to achieve this. Its really hard and it needs a lot of critical thinking.
List all your brand's touch points—every point of interaction with your customer. With a critical, yet intuitive eye, ask:
How can I more fluidly communicate my brand's desired position?
Does every touch point look, say, and feel like the brand I want my customers to perceive?
People buy from who they know, who they like and who they trust. People buy from people. And people have personality. So when you design you brand's personality you also actually defining your branding. Goal of marketing is to make it easier to find you than your competitor, it's that simple. And branding helps to build the right story.
What is Brand Personality?
Brand personality is a set of characteristics attributed to a brand in the eyes of a customer. And these set of characteristics are the elements of branding. See how they are all coming together.
A brand's personality is what shapes the public perception of a brand based on how it acts, what is says and what it looks like.
How to develop the best Brand Personality for you?
The top priority in your brand personality is meeting your target customer's preferences.
Make a list of adjectives to describe your ideal brand personality, again keeping your target customer's preferences in mind.
If your brand were a person, how would he/she behave? What kind of dressing? How does that person act? What topics he/she is interested in and talk about?
Calm has pledged to pay fines for any player who chooses to skip media appearances in the 2021 Grand Slam for mental health reasons. This is the kind of thing a person would do, and here calm is doing it like a person.
In times of crisis, be a Host – AirBnB. Airbnb is waiving Host and guest fees for refugee stays.
What happens when you get your Brand Positioning wrong?
Products fail. Let's take Tata Nano as a case.
According to Ramanujam Sridhar, Founder CEO, Brand-comm, their very positioning as the "people's car" went against them – Ramanuj Sridhar
"In India, a car is a status symbol. People here don't want to buy a cheap car, no matter how well it has been engineered or how wonderful the features are. The brand basically came out with a corporate statement saying that this is a car that anyone can afford. They, of course, tried to rectify this positioning through ad campaigns later but the damage was already done," said Sridhar.
What is Brand Differentiation?
Brand differentiation is the means by which your brand is set apart from the competition, by associating a superior performing aspect of your brand with multiple customer benefits.
There are three qualities every prospective differentiator must have to meet what you might call the differentiation test. They must be:
True – Your differentiators have to be grounded in reality.
Relevant – If it doesn't matter to your clients, it doesn't matter.
Provable – Anyone can claim a quality. You have to be able to prove it.
When everyone claims that they provide great customer service, the best people, and a proprietary process, those things become a lot less relevant to your buyers. And you should ask yourself if you can truly prove any of them. What does it mean, anyway, to "strive for excellence"?
Forget, for a moment, your product or service features and benefits. Instead, try and imagine what you can say about your product or service that puts in different category to the rest of the competition!
How To Create A New Category?
The new category should be based on the value offerings a brand can offer to the customer. For that, the company has to observe customers' needs, desires, and pains and choose value propositions that will solve customers' pains and match the business's core strengths and values.
A great example is Marlboro cigarette brand which was relaunched in 1953 as a "masculine cigarette" brand and had great success. They did not say it was a new category. However they created a visual anchor – the Marlboro Cowboy – to firmly establish themselves as the cigarette for men.
Michael Porter writes, "A company can outperform rivals only if it can establish a difference that it can preserve. It must offer greater value to customers or create comparable value at a lower cost, or do both"
What is Brand Storytelling or Brand Messaging?
Brand storytelling is using a narrative to connect your brand to customers, with a focus on linking what you stand for to the values you share with your customers.
Brand messaging refers to the underlying value proposition conveyed and language used in your content. It's what makes buyers relate to your brand because it's inspirational, persuasive, motivational, and well, sticky. Ultimately, it makes customers want to buy your product.
"By narrative, we mean storytelling elements. A story includes characters, setting, conflict, rising action, climax, and dénouement."

"By what you stand for, we mean the essence of your brand. It's not the product you sell, and it's not to make money. It's the driving force behind your business, and it differentiates you from the competition."

"Values are the character traits of your company that define it … A company's values are the best behaviors of your best employees on their best days."

Scribwise
A brand story is made up of all that you are and all that you do. From the company's history, mission, inspiration, goals, audience, and raison d'être, it's why you exist.
Storytelling in Marketing: 3 Successful Examples – Content Marketing Institute
Here you can read what four marketing and business leaders from three national and global brands do to create and support powerful purpose-driven strategies.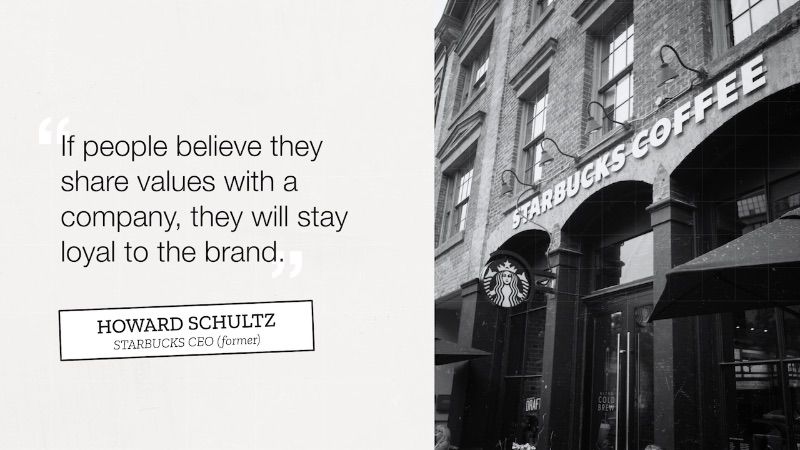 Here are few videos which tells what the brand stands for
This is Branding.
Johns Hopkins Medicine
Allied Universal
Empathy: The Human Connection to Patient Care – Cleveland Clinic
Branding is endless work
But you have to start with something solid. It requires a lot of research and understanding about you and your target audience.
Employee Branding vs Employer Branding
Employee branding is the process by which employees internalize the desired brand image and are motivated to project the image to customers and other organizational constituents.
Employer branding is the process of managing and influencing your reputation as an employer among job seekers, employees and key stakeholders. It encompasses everything you do to position your organization as an employer of choice.
Additional read on Employer Branding
What is a Branding Strategy?
A branding strategy revolves around all the intangible elements that over time drive brand awareness, brand equity, and brand sentiment. The main goal of a successful branding strategy is to let the world know that your brand exists, what purpose it has, and what defines it. A branding strategy is a fluid, long-term strategy that often requires being revisited over time based on its success. All of what we discussed so far is a result of Brand Strategy.
To wrap it up
A business is only as strong as branding. And the branding, as strong as the purpose – a purpose that the organization stands by and commits to. Branding goes way beyond the visual elements and only when you hit all the nails right will you be able to attain success in the ultimate branding game. Brand authority drives business growth. Brand authority is a big part of helping consumers trust a company, and trust is absolutely critical to acquiring and keeping customers.
Your brand should spread throughout your organization, across every touchpoint. And when your brand is purpose-driven, you'll see tremendous growth and brand loyalty from your customers.
We are a Branding agency in Bangalore, and we believe in building brands with purpose. From creating your initial brand strategy to the visual elements, our approach to branding sprouts from answering the 'why'.
If your brand needs branding assistance, reach out to us and we would love to help you identify and share your brand story, the right way.
PS – The simple rule of branding and marketing anything is to keep your promises. If you say your product is excellent, make it so. And communicate it damn well. Want a bigger brand? Make bigger promises. And keep them. A product is what you sell, a brand is the perceived image of the product you sell, and branding is the strategy to create that image.
Branding is not Brand. A brand is an emotional connection that influences our behaviour and actions.
Branding is not Brand Strategy. Brand Strategy influences the process of Branding, not the other way around.
Branding is not identity. A brand identity is who we are at the core. Changing our clothes doesn't change our identity.
Branding is not a creative asset. Creative assists are specifically made up of distinctive marks, logos, colours, illustrations etc.
Branding is not marketing. Marketing is the set of activities that help you promote your services and products.
Branding is not the overuse of brand assets. More use of assets is not more visibility.
Branding is not design. Design alone creates visual appeal without substance.
Branding is the consistent management of emotional connection through various touchpoints.
There parts of a Branding Project is Diagnosis, Strategy and Tactics – all there are equally important.
Design without Strategy is Lifeless, Strategy without Design is Mute.
A successful company is an overall goal for your team. And with a well-executed rebrand or brand refresh, you can position your brand to stand the test of time. Change is good, and while it may take time to see the results, your brand's adaptability will be rewarded.