Most B2B websites often feel like a very boring powerpoint presentation. Your B2B website has to keep in mind all the nuances, from longer sales cycles to different modes of persuasions, that selling to business buyers requires. In B2B web development's case you're selling to business customers, often buying teams, who are performing extensive research pulling the trigger.
Web Design and Web Development for B2B Businesses
Great B2B website has
A clear story
Compelling copywriting
A design language which works with the design
The best B2B websites are designed to inform, captivate, and persuade people to engage with brands.
The better your B2B website's user experience is for visitors, the more often your brand will leave positive, lasting impressions and earn new customers – websites that convert visitors to customers.
Why B2B business need a really good web development?
Lead generation is a big part of B2B companies' websites. Tips for writing great B2B website content are briefly explaining products/services upfront, promoting the benefits of partnership, and strategically placing every piece of content within your pages.
Two things you should clearly understand while designing a website and developing a website for a B2B business.
How your marketing and product messaging is landing on them?
Brand messaging is what guides your copy across all marketing channels and all company departments including website copy – anywhere you're talking to your existing or prospective customers.
It often impacts the design, too.
Having a clear brand messaging strategy also lets you make your website communication better:
Always know what to write and how
Know how to arrange copy (and often the design) to best convey that message on your homepage, your product pages, or your free trial onboarding email sequence
Target the right people with a consistent message across channels – and help your customers see you for who you are and what you can do for them from the moment they come to your website (or see your ad.)
Stand out from your competitors, especially when your products are really similar (and if you're in B2B SaaS, they most likely are.)
Not to mention, when it comes to conversion rates, messaging can be twice as impactful as design.
Design or Copywriting – What matters more in a B2B web development?
Design matters, but copy is the key.
Creativity, copywriting and storytelling helps any business in any industry – especially for B2B websites. Everybody creates content. So how do you cut through the noise and get your story heard – or better yet, remembered? Motion design in web development can help.
Data shows that website messaging is 2x as influential as design when it comes to converting visitors.
Even though this what data shows, good design is always invisible. So you may think copy is what matters, without a good layout and visual appeal nobody is going to ready the copy. We at Everything Design – as a leading B2B web development company in Bangalore strongly believe both copy and design are equally important. When something is well-designed, you don't notice it's there and how easy it is to use.
Are you a market leader or a category leader in a B2B business. You can't simply tell people you're the leader – you need to show it. You need to lead in all other ways that would be expected of a leader. Like leading the conversation, evangelising the category, supporting the growth of customers and non customers alike.
Don't tell your audience who you are. Show them and let them develop those feelings themselves. That's how you build a real brand reputation.
Why we give importance to visual design in B2B web development?
People make snap judgments. It takes only 1/10th of a second to form a first impression about a person. People make judgements about websites design based on what is shown to them – and visual design is very important to create a great impression for a B2B website.
It takes about 50 milliseconds (ms) (that's 0.05 seconds) for users to form an opinion about your website that determines whether they'll stay or leave. That is why a clear website development process is required for any B2B web development.
What is B2B website design strategy?
A website strategy is the customer-facing side of your business strategy. Good websites are always designed after understanding the ideal customer profile.
Meaning that a website strategy is how your website communication comes to life.
We strongly recommend that you use your website strategically but don't overwhelm your visitors. Focus on the content that is going to make your visitors excited to continue the conversation by booking a sales call, but don't give away all the answers up front.
End of the day, website should be an investment which will increase your business revenue.
Check out Building a Storybrand by Donald Miller to learn more about the importance of storytelling in creating strong brands.
Why information hierarchy is important is important for a B2B web development?
Most first-time visitors skim.
In their mind, they're quickly trying to figure out
'what is it?' (category),
'what can I do with this?' (value proposition of the product/service),
'why this over others?' (target audience, differentiation).
When a page gets very long or cluttered, the attention can get diluted. They're not sure what to look at.
If you cram everything there is to say on a single page, odds are they walk away remembering nothing. Too many messages results in low recall.
What are 3 things we want the audience to know about us? Three most important things.
Your information hierarchy needs to stem from that. Websites with long or infinite scrolling are becoming more and more common lately, and it's no mere trend or coincidence. Long scrolling is not for every website, in the website strategy we need to decide the best approach for a particular website.
B2B Website Home Page – Long Scroll or Short Home Page?
Long scrolling can create a completely immersive browsing experience. If users like a UI and find it intuitive, then they won't really mind the length of the scrolling. Thus, focus on their goals and make things more convenient for your users.
Should B2B websites have long or short home page design?
The goal of the home page is to get people off the home page – deeper.
You do that with messaging that's clear, compelling, aligned with their challenges and priorities at hand, differentiated.
Turn all vague statements into specifics. Be explicit about what you are (category). State your Ideal Customer Profile (ICP). Lead with your differentiated value.
Home page of B2B SaaS web design is usually treated as an index that summarizes the rest of the pages. It only gives you extra work because you have to reword the other pages. Pricing/product pages are usually the most popular pages.
Most cases we should treat home page as a short sales page. Might as well give it a function instead of making a nicely designed table of contents. I mean, you already have the menu.
Why good copywriting is very important for a B2B web development?
Getting your messaging right is almost as important as getting to the right product. Messaging is twice as influential as design when it comes to converting new customers. But the symptoms of ineffective messaging aren't easy to spot.
A few dead simple website writing tips:
Use short sentences and paragraphs
Display the most important content first
Limit the line length to 50-75 characters
Use bullets to summarize features and USPs
Increase readability by writing for a 5th Grader
Content Product Process we can use for a B2B web development
Accept that we are content experts, and while we're specialized in martech, sales tech and HR tech, we're 𝗻𝗼𝘁 practitioners. We get SMEs involved in our content creation instead of Googling information needed.
✅ Have a well-documented content production workflow so that at a glance we can see what input each piece needs, what stage of production it's at, and who owns the current step.
✅ Create, maintain and refer to a customer desire map to help us see how real customers talk about their pain points, hopes, desires and barriers. We use their words verbatim in the copy.
✅ Create a "living" ToV document. This means every time a client leaves a preference or feedback that can be applied later, instead of addressing it and closing the comment forever, we also add it into our ToV document that our writers always refer to. That means our clients never have to give us the same feedback twice.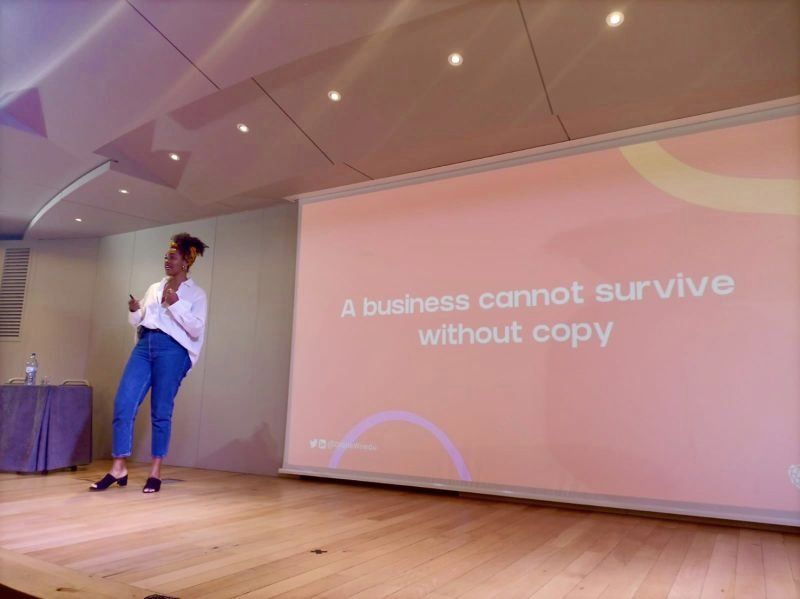 6 steps to writing better website copy from Flux Academy
Website copy and design go hand-in-hand. Both of these elements are equally important and work together to form a functional and strategic website.
Outline the website goals and objectives
Define the purpose of each page
Research keywords for SEO
Create an outline for each page
Write headlines first, then fill in body copy
Revise and proofread
Examples of Good Copywriting in B2B Web Development
Web copywriting of Switchboard's Website
If you look at the headline and the paragraph it is very clear communication. It says what it does and who is it for. The Call to Action is also clear with a compelling offer.
Web Design of ClickUp – Home page, first fold design
Copywriters in Clickup have extensive experience writing website copy that motivates action by communicating the right message at the right moment in the user journey. They have deep understanding of all aspects of content creation, including digital marketing, SEO, web design, strategy, and UX writing. Great web copywriters thrive on making the complicated simple by skillfully taking complex material and communicating the core message in a few winning words.
What is the best B2B website designs have in common?
Communication is the main purpose of a website. It's job is to communicate information about the product/service you offer, and details about your company/organisation to visitors.
The best B2b website development happens when you consider the following
Easy and logical navigation
When we did TurboTech's website design and web development this is exactly we did. TurboTech is a B2B Turbine Manufacturing Company. While creating website strategy for TurboTech website strategy one of the key insight was that since TurboTech as a B2B brand, the website design communicate the industries very clearly. Hence we added relevant images to the nav bar itself. Now a potential customer can select the preferred industry from the navigation itself.
Key to good website communication is branding. Branding makes your business instantly recognisable, and it's important each page of your website looks part of a whole.
If you look at any of the websites Everything Design have designed and did the web development in webflow, you can notice that utmost care is given to provide brand consistency. It is achieved with the use of typography, colour palate, iconography, brand patterns, gradients and certain tone and voice in copywriting.
About page in a B2B web development is very important. History of the page, the legacy, mission, values, the core team – they all communicate about you. In B2B the relationship is longer and people want to deal with firms who share values. Is also helps in attracting the right kind of talent.
Most potential customers will have questions as part of their decision making progress. When they can find these answers on your website, without needing to contact customer service, it immediately gives them a better impression of a brand.
While we were working on the web development of XIMKART, this is something we carefully crafted. You can see the FAQ section we designed and developed here. We also made sure the FAQs get added to the navigation bar. Website Navigation, as name suggests, is a way to showing importance and relevance of pages, content, and information on website.
Testimonials & case studies
Testimonials are essentially positive reviews of your organisation. They're like a digital version of word of mouth and are a great way to communicate trust through your website. For a cut fruit brand, we conceptualised and executed the testimonial videos so that it gives the website visitor a clear picture about the service you are offering. You can see some testimonial videos in our own website design also.
What should you do for the success of a B2B web development project?
B2B Website Launch
Launching your website for the B2B business is not the finish line. It's the start. Building and launching a B2B website is like a runner preparing for a race. Most people think launching your website is crossing the finish line. They have done all the work (website strategy, copywriting, website design and web development) and now it's time to sit back and relax.
This is the wrong perception. The website strategy and building process are the equivalents of training for the race.
It consumes more time than the actual race and is equally important. There is a short time when your website is brand new. You must capitalize on this. Don't stop marketing when your website goes live—this is the time to push the hardest.
We combine strategy, copy, and design to create high-value B2B websites
Great design without quality copywriting is a waste of your design investment.
Also copywriting is truly easy, if you do your research and prep work, your copy will shine. Once you have great copywriting, the design should help a person to scan and understand the copy. If you have an amazing design and poor copy, the site won't convert anywhere near as well as having awesome copy and poor design. However, if you add awesome design to amazing copy, you will have the best chance of conversions.
How Everything Design can turn your B2B website into your best salesperson?
Our recommendations in web development to turn you website into your B2B business's best salesperson.
Ungate your content. Don't make people use their email to get the content you're offering. Yes, you're going to lose out on all of those coveted emails… but does it really matter? Most buyers block all incoming emails anyways, and go to social platforms to consume content. Instead of putting money in to follow up cadences, put money in to content instead.
Streamline your CTA's. This is for almost everyone on LinkedIn, especially B2B SaaS. If a visitor lands on your website and is hit with 13 different CTA's, then they're just going to leave and go elsewhere. It's overwhelming. Pick a CTA, and stick with it.
Add social proof. When you buy something on Amazon, you probably read the reviews or sort by the best rating. The behavior of a buyer is no different on a website. The typical visitor, whether or not they know it, will be hunting for social proof to see if your services really work.
How can you improve visitor experience for a B2B website?
→ Keep the basics in mind
I refer to fast-loading pages, being responsive and mobile-friendly, using clear & compelling CTAs, making different elements visually distinct, and more.
→ Optimize your website for easy navigation
You want to make it easy for your buyers to navigate to your high-intent pages like your demo request page with the least number of steps.
→ Analyze where experience is lacking
By using solutions like Hotjar to visualize how visitors behave on your website with heatmaps and user recordings, you can figure out where they get stuck and how to improve your sign-up flow.
Even better, you can directly ask your customers, conduct a survey (using a tool like Typeform), or hire testers (like the ones provided by UserTesting).
→ Include only the required fields on your signup forms
Not just that, but you can also let high-intent leads enter only their email address, and real-time data enrichment platforms (like Clearbit) will fill in the rest of their profile and company info.
→ Get rid of post-signup emails
Instead of back-and-forth emails trying to schedule a demo, let your buyers schedule it directly from your site using tools like Chili Piper.
→ Don't treat all leads equally
SDR qualification should not be applied to all leads.
You should assign high-intent leads that fit your Ideal Customer Profile directly to AEs instead of assigning them to SDRs, so that you minimize unnecessary sales handoffs and increase win rates.
At the end of the day, delivering a great inbound buying experience will result in more website-sourced SQOs and revenue driven by the demand you create.