💡 It takes about 50 milliseconds (that's 0.05 seconds) for users to form an opinion about your website that determines whether they like your site or not, whether they'll stay or leave.
What is website design?
Web design is what creates the overall look and feel when you're using a website.
A website design is made up of 3 parts : appearance, layout, and content. Appearance, for instance, relates to the colors, font, and images used. Layout refers to how information is structured and categorised. Content is what is written on the website.
What are the types of website design?
Broadly, we can say two. Responsive and Adaptive design.
RESPONSIVE design, content moves dynamically depending on screen size.
ADAPTIVE design, the website content is fixed in layout sizes that match common screen sizes.
Web design has a few subdivisions that are detailed below:
Web graphic design: This is web design applied to a website's visuals. It involves everything from the colors and fonts to the general layout of its pages.

Interface design: Web design work also refers to interface design. Not only does it apply to traditional websites but it involves mobile apps, games, computer software, and several other products too. After all, an interface is anything that serves as an intermediary between the user and the system.

User experience design: The look and feel of a digital interface also require a good user experience. Otherwise, your audience will seek other solutions.

Search engine optimisation: Last but not least, web design also involves working with search engine optimisation (SEO) to make sure that Google and similar sites properly index your content. This helps your content reach better positions on the search results ranking, thus reaching a wider audience that is looking for your solution.
What is good website design?
💡 A study found that 94% of negative website feedback was design relate
Some websites are just intrinsically really, really bad in design. For such poorly designed websites – it isn't one thing that makes the site painful to your eyes, but almost everything on the site.
There may be a combination of ugly colors, poor navigation and other items. Fortunately, these sites are rare, but viewing them can help you know what not to do when you design your site. Here are 4 pointers for a good website design:
Should be user responsive
Not having a mobile-friendly website is one of the most common website mistakes, and is one problem you need to solve ASAP is yours is an offender. Google's Mobile-Friendly Test(https://search.google.com/test/mobile-friendly?) will help you see if your site is mobile-friendly or if it needs work.


Should have a Fast loading time
Does your website load so slowly that the visitor has time to go grab a cup of coffee and a donut before coming back? If you thought people were impatient offline, they're even more so online—thanks to the "back" button. They don't like waiting for anything and expect your website to load fast. About 47 percent of people expect a web page to load in 2 seconds or less!
Tip: Check site speed and get improvement advise via Google Page Speed Insights.


Should be Aesthetically pleasing
46% of consumers in a study based their decisions on the credibility of websites on their visual appeal and aesthetics. Your brand's identity dictates your website's aesthetics and it must be well condensed by your web design. This includes:

Website layout Did you know? Users spend an average of 5.94 seconds looking at a website's main image. And, once on a company's homepage, 64 percent of visitors want to see the company's contact information, and 44 percent of visitors will leave if there's no contact information or phone number available. The end goal of the user experience on your website should be to create a conversion by having a user get in touch with you.

Typography Internet users like text to be easily scannable, so if they encounter large walls of text on your page, you'll deter them from your site. That is why so many businesses choose Content Marketing so that they always have quality content that people will want to read and share.

Font size One of the most common website flaws is text that's too difficult to read. All font should be more compatible and reader-friendly across device types and at small sizes. If you have to squint to read your website's text on a mobile device, it's time to have a discussion with your web designer!

Color schemes One of the worst website design mistakes a company can make is with their website's color palette.Your colors are the first thing your site visitors will notice. Some companies make the mistake of using too many colors and overwhelm their visitors.


Should be designed for Usability
Visitors shouldn't have to hunt for links and buttons, they should be able to quickly see which images and pieces of text will take them to new pages or confirm their choices. Put yourself on your visitor's shoes and think of what they would consider intuitive. Remember, always design for user experiences.


Should have clear Call to Action (CTA)
Calls-to-action (CTAs) are how you get people to act. Whether you want them to sign up for your newsletter, follow your Facebook page, or call you to set up an appointment, you need to have compelling CTAs.

Why is a good website design important!
"What separates design from art is that design is meant to be… functional."
First impressions really matter. We can't stress this point enough: if you don't have a strong web presence, you're holding your brand back.

Establishes Credibility, builds your brand image
It's plain and simple. Design is the largest determining factor in whether potential customers think your business is reputable or not. Your website is a reflection of your brand and everything that it stands for. Your website design elements, like colours, fonts, images, etc. all form your brand identity. So, you need to select those elements carefully and keep them consistent across your website.


Good Website Design leads to more Sales
By investing in professional web design, you can drive more sales and revenue for your business. You can create a more visually appealing site that catches your audience's attention and gets them to engage with your content.


People don't want to browse ugly sites
With so much content on the net, no one has the time to browse 'ugly' sites. It's plain to see just how much an ugly, disorganised, or unprofessional website can cost you. Per recent surveys, you're losing at least 21% of your potential customers. So, take the time to review and improve the important aspects of your site.


Design levels the playing field
If given 15 minutes to consume content, two-thirds of people would rather read something beautifully designed than something plain. Design thinking is just one way of levelling the playing field, creating a safety net for non-designers to innovate, come to par with designers.


Enables A Better Customer Service
Your audience can get an insight into how you treat your customers by just checking your website. If you don't invest in the design of your page, your target audience assumes you won't deliver value for their money. Make your business look open and welcoming by investing in a bright, up to date, and eye-catching website design.


Good UX keeps visitors on-site longer
According to Neil Patel: You should design your website in such a way that it's easy and pleasurable to use. Failure to do so could result in high bounce rates. After they've left due to an unpleasant experience, getting them to revisit your website is next to impossible.


Strategic CTAs almost always convert
Good web design helps guide your users' eyes and tell them where you want them to look. On your website, your design can draw attention to special offers, highlight calls to action, and help users identify buttons and clickable elements. All these things can help drive users to take the actions you want.


Gain SEO benefits
Finally, great website design isn't just about the visual elements on the front end. How the design comes together behind-the-scenes can deeply affect things like search engine optimisation. Sydney SEO Agency says that one of the most common mistakes that businesses make is not prioritising design functionality. In 2021, with more than 58% of users choosing mobile as their primary search device, having a fast, responsive website is imperative to SEO.

How does a website impact your business?
Reach more potential customers.
A business will always be limited by the number of potential customers it has access to. For businesses that have a physical location, a website helps you to tap into the online market—something that helps you increase your revenue by increasing your reach.


Provide 24/7 customer service.
Traditional methods of selling and support are limited by operating hours. With a website, however, you can provide round-the-clock access to your customers. If you sell a product or provide a service where there are a lot of frequently asked questions or demonstrations needed, a website is an amazingly effective tool that delivers information on demand. FAQs and knowledge bases can also help customers answer redundant queries. A great website works for your business 24/7 while you sleep.


Act like your business's information center.
Your website provides customers an easy way to contact you and learn more about your products, services and business. You can share the latest news – Whenever there are new developments regarding your business, people can view updates on your website.


Boost online and offline leads.
Having a website doesn't just help you increase online sales, it creates more sales offline as well. By using your website with free giveaways and tempting offers, you can increase your lead generation and build a prospect list. How many people will buy at the first interaction with your ad? Probably not as many as you dream of, but the key is in getting them into your marketing funnel.


Marketing made easy.
A website provides the opportunity to get across who and what you are as a business in a much more multifaceted way. This is the sheer power of internet marketing. An entrepreneur could literally launch a business today and start getting new customers online tomorrow. Thousands every week!

Can a better web design bring more sales?
A few stats:
Google averages 40,000 searches every second
75% of opinions on website credibility come from web design
89% of people shop with a competitor after a poor user experience
38% of people stop engaging with a website if it's unattractive
Every $1 invested in user experience (UX) brings an astounding $100 return
Verdict:
Good web design is one of the most effective growth tools for your business. Every aspect of your business, from your company's logo to your website's appearance and usability, to your marketing brochures, must be smartly designed to maximize the user experience. Conversely, poor design can kill your business.
How to build a website design strategy to increase revenue?
Wondering how to leverage your web design to increase sales – we have you covered.
1. Optimise for mobile
Mobile is becoming an ever-more popular way to access the internet. Almost 60 percent of all online searches are now carried out on a mobile device, and by 2025, nearly 73 percent of internet users will access the internet solely via mobile devices. This simply can't be ignored.
"When you build an eCommerce site, it must be optimised for mobile users. Otherwise, it's behind the times and you will be losing business. Your website design should be responsive. This means that it is needs to be designed to visually adjust to the size/shape screen wherever it appears. The best most responsive websites not only adjust to new screen sizes — they're also intuitive and easy-to-navigate. So, make sure you hire a talented professional designer to help your eCommerce business execute its responsive website design,"
2. Improve the on-site customer journey
The key here is to make things as seamless as possible for your visitors. That could be as simple as making sure landing pages are aligned with marketing content. Keeping consistency across your website in general is important as it helps create a good user experience. Probably the most important consideration, though, is the checkout process. Nearly 70 percent of carts are abandoned, so this represents a big opportunity to increase ecommerce sales.
"When designing landing pages for your website, remember to eliminate distractions, provide a clear call to action, and make it easy for the customer to complete that call to action with a purchase "
3. Build trust with proof
Trust symbols are visual elements that indicate credibility and trustworthiness on your website. These include security badges, client testimonials, brand partnerships and awards that provide social proof and consumer confidence.
"People are social creatures. We all want to belong. Seeing other people sharing a certain opinion encourages us to share that opinion, too. When designing your website, be sure to leave room for customer testimonials and reviews"
4. Offer better support
Provide visitors quick and easy access to answers to the most commonly asked questions by adding a knowledge base, or an FAQ section at the very least. Chatbots can also be used to offer a similar type of service, but in a more interactive and engaging way.
"Be sure to ask numerous people to review your check-out process. Track the issues you find as you review the process. Even minor inconveniences can drive some customers away. And, these inconveniences are your guideposts for improvements to be mad"
5. Build on intent, have clear CTAs
Once a visitor has demonstrated their interest in you by coming and engaging with your website don't let them slip through your fingers. Your CTA button serves as the clear, actionable step towards a conversion. This button's design should be enticing and strategically placed to make visitors click through to the next step in their purchase decision.
"An eye-catching ad design steeped in your visual brand will help to keep your business fresh in your customers' minds. Pair that compelling design with a valuable offer, CTA and repeat customers will flock to your site to take advantage"
8 Tools to build a better website
Award: Site of the Day (2020), Awwward
Parallax, bold colors, and negative space shape the design and experience of Swab the World's website. The organization brings awareness to stem cell donations. Their mission is to "Make sure every single patient finds their match. Period." Photos of couples exhibiting love and emotions bring a human element to a historically complex and scientific process.
From a technical perspective, the design makes moving down the page feel natural, ensuring the readers reach each point of copy and every CTA on the homepage.
Award: Honorable Mention (2020), Awwwards
An organization with a responsibility as large as honoring past, present, and future migrating identities needs a beautiful and functional website to help spread the word. Newest Americans champions immigrant experiences in cities across the state of New Jersey. The website uses beautiful imagery of people, places, and items that represent this experience in a way that flows cohesively down the homepage, telling the story of this group of America's newest citizens.
The website is both visually appealing and functional with a simple navigation menu, stories organized by photos, and a clean press page that puts the most recent articles front and center.
Award: Honorable Mention (2020), Awwwards
Spotify is known for accomplishing its fair share of amazing feats, and its latest iteration of Spotify.Design is no different. Serving as the hub for all things visual and creative for Spotify, the music and podcast giant gives listeners a look into the who, what, why, and how of what makes the app so sensational.
Bright colors, drop shadows, and smooth animations give this website character and depth. The flat geometric designs with abstractaccents make albums and artists practically jump off of the screen.
Award: Corporate Website (2020), Red Dot
To see video done right on a website, look no further than the Human Interaction Company. From the moment you click on the site, the experience is lightning fast. You're dropped directly into the action — the why, what, and how of Human Interaction and exactly what the team does.
This Red Dot Design Award winner aims to bring the study of human interaction to the masses, and in the process, show us just how engaging it can be to learn about it. Don't get discouraged by their award status though — none of the photos on this site are photoshopped, so it's a practical example of building quality with the resources you have available.
Award: Site of the Day (2020), Awwwards
How do you transform the feeling of luxury and practicality into a website? Garoa Skincare provides a blueprint. Whether your product costs half the price of your closest competitor or twice the price, your site can bring a sense of extravagance to just about any product you sell
High-quality visuals, typefaces that complement each other, and a balance of negative space with useful copy can bring a simplistic elegance to your website.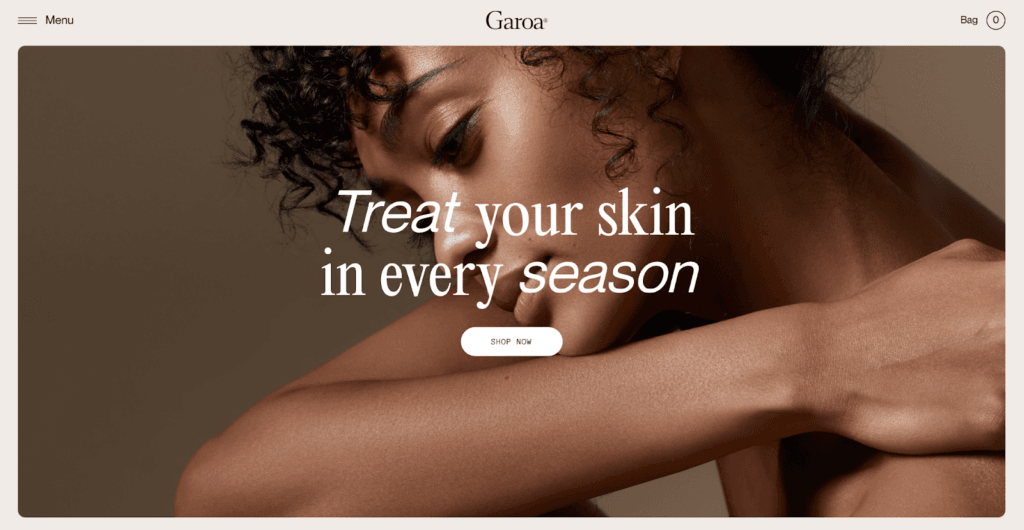 ---
Looking for a website designer?
Let's face it. If you have any bad website design elements on your site, it's time for a website makeover. We, at Everything.Design help companies build great websites. By taking a hands-on role in your website's design process, we guarantee that you'll get a website that meets or exceeds your expectations. Your website is your 24 Hours a day sales rep, invest in that one person.
---