Here's a riddle.
I am the world's largest manufacturers and distributors of confectionery products.
I create imaginative products and brands that are enjoyed in over 150 countries.
I own brands like Alpenliebe, Center Fresh, Chlor-mint, Mentos and Juzt Jelly.
Who am I?
🍫 Okay okay. We'll tell you! It's PVMI!
No? Doesn't ring a bell. 👇🏻 Continue the read.
PVM Global
Perfetti was incorporated in 1946 by two Perfetti brothers Ambrogio and Egidio, in a small town called Lainate just outside of Milan. Perfetti acquired Van Melle N.V. in March 2001, which was an important step for the group to strengthen its position in the market, expand the product propositions and increase the dominance across markets.
Globally Perfetti Van Melle sells to over 150 countries worldwide and has a strong workforce of 17.6K employees in 38 operating companies throughout the world.
PVM India
Perfetti Van Melle India Pvt. Ltd. (PVMI) is a fully owned subsidiary of the global confectionary conglomerate Perfetti Van Melle, headquartered in Amsterdam. Having started India operations in 1994, PVMI's has a distribution footprint spanning 4 million outlets pan-India with manufacturing facilities in Manesar (Haryana), Rudrapur (Uttarakhand) and Karanaipuducherry (Chennai).
PVMI owns brands like Alpenliebe, Center Fresh, Chlor-mint, Mentos and Juzt Jelly among others and has a strong presence in the confectionery market in India.
The ₹12,000-crore confectionery market, in which PVMI has a ₹2,000 crore share, is among its parent's top five markets.
Its competitors include Parle, ITC and local players besides other global outfits.
🤛🏼 "Competition is intense," remarked Mr. Ramakrishnan, MD.
PVMI Campaigns
Today, in the time of the Internet and digital space, there is a lot of self-expression that is happening, and personalisation has been a way of self-expression for consumers. This is how personalisation makes a point from a consumer point of view.
Elaborating on how and what is to be used in terms of personalisation, Ramakrishnan – Managing Director, PVMI, touched on three points.
Firstly, the cultural insights and how they can be leveraged. All brands today look at insights to build a brand and communication propositions and if the insight is based on the culture and local tradition it makes it more powerful.
Secondly, empower consumers and give them the power of choice, by going little extra in terms of giving colour variants, shapes and sizes, etc. as per the consumer need, choice and preferences, so that the consumer can in some sense, customise the product.
Thirdly, because of the massive digital equipment that is used, there is a lot of data that keeps floating around which is voluntarily out, while some of it is collected in various forms and can be used to tailor-make products as per the consumer's preferences. Data then becomes a powerful mechanism for personalising and marketing content.
Awards
The creativity and uniqueness of PVMI Campaigns has been recognised in India and abroad. In the span of 2005 to 2011 only, PVMI received an average of 22 awards per year, with a peak of 43 awards in 2007. In 2021, PVMI bagged top honours to win Marketing Team of the Year title.
Here is it's branded house: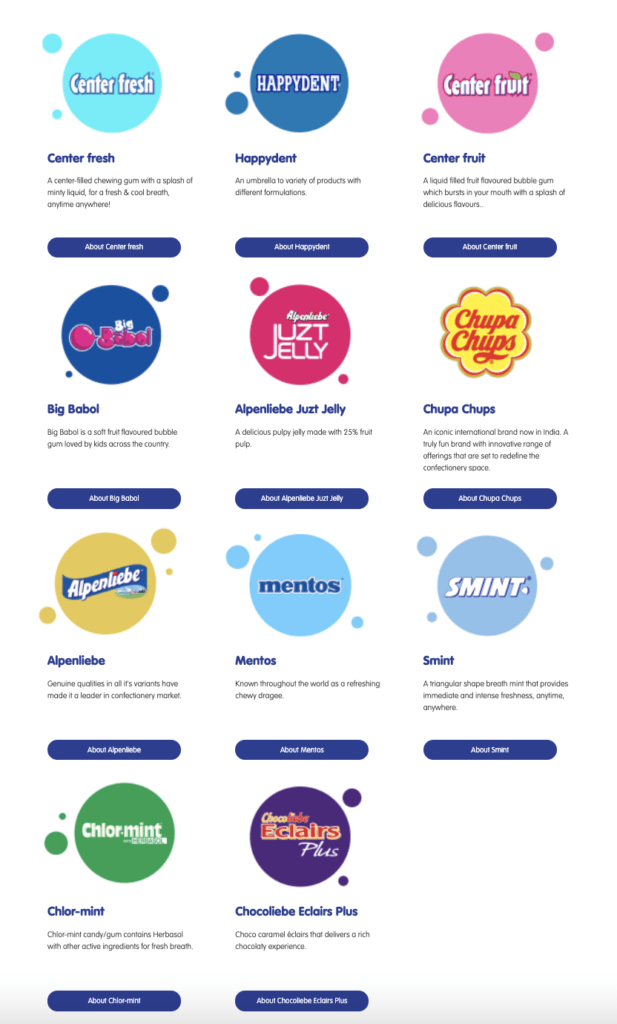 ---
Alpenliebe
🍫 Confectionery brand Alpenliebe has unveiled a new campaign to celebrate its 25-year milestone in India. The campaign includes a TVC and a consumer engagement contest.
Alpenliebe, the candy brand from the house of the global confectionery group Perfetti Van Melle, has turned 25 in India in 2020. To commemorate this milestone, the brand had launched a new campaign that will saw a little tweak in its packaging that year.
Alpenliebe, as a brand, celebrates the coming together of families with its brand positioning of 'Bringing hearts closer'. What better way to bring together a family than a holiday? The consumer engagement has been designed to help Alpenliebe families create sweet memories.
As part of the contest, participants get an assured travel discount and 25 lucky winners stand a chance to win holiday vouchers worth Rs 1 lakh. Thus, aptly targeting families and young parents. Participants can also win 'Superhero' themed Zoop by Titan watches every 25 minutes during the contest period. This appeals to kids, who are our primary consumers.
"Alpenliebe's India story started in 1995, and, in 25 years, it has made way into the hearts of consumers with its unique caramelly taste and superior indulgent experience. It has been a great innings for Alpenliebe in India, especially on the back of product innovations and memorable campaigns over the years."
– Rohit Kapoor, director – marketing, Perfetti Van Melle India
To mark its 25-year journey in India, Alpenliebe introduced a new tweak to its packaging. The candies carry a commemorative emblem that reads '25 years celebration'.
Enter Kajol
🍫 Then came the period of 2006, when PVMI introduced an unusual element in their campaign, a Crocodile along with a Bollywood celebrity and that did well for us to break the clutter – "Laalach Aha Laplap"
It was the first time in 10 years that the brand went for a celebrity-driven ad with Kajol.
Campaigning with Kajol paved more ways for the brand to penetrate into Indian households and focus on its acceptance. It was largely geared towards wooing Indian adults, especially parents and guardians who would ultimately lead to consumption by minors.
Laalach Aha Laplap – this tagline promoted the message that when a person consumes Alpenliebe, the desire and greed for the candy increases.
Other Unique Campaigns
Over the years, Alpenliebe has often crafted many creatives, especially in the television advertising space. Here are a few that stand out.
---
Mentos
🍫 Mentos from the house of Perfetti Van Melle rolled out its famous campaign CompliMentos
The campaign is part of the Mentos' global brand proposition "Who says no to Mentos" and will was active in India during the months of November and December 2019. The campaign's promotion saw every Mentos roll feature a compliment pre-printed on the pack.
he CompliMentos campaign builds on the insight that sharing compliments is a nice way to connect. Comments such as "You and I are MINT to be", "You are the sweetest part of my heart" are just some examples of the several different CompliMentos pre-printed on the pack.
Further, for a limited time, consumers can visit the Mentos India website wherein they have the option to personalise the Mentos rolls with messages and send to their friends and family!
💡 Mentos "dimaag ki baati jala de"
Mentos initially positioned itself 'The Freshmaker', which was later rebranded with a more locally relevant tagline "Dimag Ki Battii Jala De!" in 2003.
Since then, the tagline gave birth to several popular campaigns that gave 'thinking on one's feet' a humorous meaning, and effortlessly sort unsought circumstances. Dimag Ki Battii Jala De! has become a part of the physicality of the brand and it instantly plays back the minute Mentos is mentioned.
The Mentos ads have customarily portrayed real-life situations that are common in nature, which is why most of their audience was able to relate to them. The concept of 'Aam Zindagi v/s Mentos Zindagi' has since been recognizable for several Indians, in the last and preceding decade.
---
Center Fruit
🍫 Center Fruit's famous campaign of 'Kaise jeebh laplapaayee'
The commercial was born out of a need to do a theme-based commercial that would cut across masses. The film, titled 'Jugalbandi' is a humorous take on Center Fruit's presence in the middle of a duel between a tabla maestro and an experienced classical singer.
---
Juzt Jelly
🍫 This campaign wants to take you on a rollercoaster ride of 'Family Mai Masti Chali'
The communication is targeted to position Alpenliebe Juzt Jelly as the "Enabler of Family Fun". The campaign portrays one such occasion, takes the viewer on a rollercoaster ride of twist and turns, and endorses the idea of family fun centered around these Juzt Jelly characters.
"At Perfetti, we are constantly reminding ourselves of our mission -'Always innovating what confectionary can do'. This is evident not just in our product innovations but also in who we are targeting. With this TVC, we wanted to reach out to kids in lively cute manner & also to the entire family to promote shared consumption of jellies"
– Rohit Kapoor, director – marketing, Perfetti Van Melle India
Enter Kajol again
Kajol is loved for her energetic and vivacious personality. She comes across as infectiously mischievous and blessed with a bubbly enthusiasm that is contagious. Her association with the 'Alpenliebe' brand has been cemented over the last few years where she has essayed a number of interesting roles centered on greed, all of whom have been loved by our consumers. With the launch of Alpenliebe Juzt Jelly which as a format is full of fun, it was only fair that this commercial too had the same effervescent protagonist.
---
Chupa Chups
🍫 Chupa Chup's '#FunKaBooster'
Chupa Chups #FunKaBooster campaign urges teens to let-go of the pressure of adulting by instilling some irreverent fun into their lives. This campaign has increased the brand relevance of Chupa Chups and helped take the brand to greater heights.
Commenting on the campaign, Ritu Sharda, Chief Creative Officer, Ogilvy-North, added: "The age of social media has put pressure on teens today. On top of their grades, extracurriculars, schoolwork… they also have to think about how popular they are, how many followers they have, how many stories they're putting on their channels. Here is where we found space as a brand to tell these teens to just have fun and take the load off. The brand of fun we endorse is irreverent – not taking away from the great impact that teens today will have on the world of tomorrow, but asking them to fully enjoy whatever they are doing with a "Chupa Chups" twist."
"Chupa Chups has always stood for keeping the inner kid and childlike fun alive in our protagonists. Tapping into insights relevant to today's teens"
– Rohit Kapoor, director – marketing, Perfetti Van Melle India
---
Big Babool
🍫 "Bade kaam ki cheez" campaign. If you're a '90s kid, chances are the tagline rings a bell.
The famous animated commercial from the early 2000s that starred a turtle who, after being adopted by a bird, blows out a big pink bubble in order to fly like its winged siblings. With lyrics and narration by marketing pro Prasoon Joshi, the ad was weird and wacky and successfully glorified the bubble.
At one point, the fruity gum had Indian kids everywhere trying to blow a bigger bubble than their friend. Couple this with the tagline and you have a cheeky advertising campaign that showed kids how a bubble could save them from trouble or be used to their advantage. The point wasn't to just show how blowing bubbles was fun — kids already knew that. It was to make it look cool and useful, even among the older adolescents.
"It allowed the shopkeepers and even the smallest of kirana stores to display the product at the front of the counter. Though it sounds simple, you have to remember that the confectionery wholesale trade was really disorganised at the time and this move was key to make Big Babol accessible"
– Rohit Kapoor, director – marketing, Perfetti Van Melle India
When asked why Big Babol didn't opt for a character logo like Boomer's Boomer Man, Kapoor said the brand had consciously tried not to copy its competitor. They didn't want the bubblegum to seem too 'kiddie' for the older kids. Going caricature-less was safer and didn't limit their target group.
---
Happydent
🍫 This campaign confers the dazzling white smile a meaningful role – one for social good. "Dikha Battissi Kar Baat Achhi Si"
The tagline – 'Dikha Battissi Kar Baat Achhi Si' encompasses within it, the heart of the message the brand wishes to highlight – that of goodness with a smile.
Through the new TVC, Happydent continues to own the space of 'Sparkling Smiles' coupled with a strong purpose of awakening social consideration, a value that should be embraced in today's challenging times. Nothing is more rewarding than a sparkling smile which can help you challenge and change habitual mindsets and nudge a small change.
Conceptualised by Prasoon Joshi of McCann Worldgroup India, the new TVC is a progression from the previous campaigns where the brand encompasses a wider spectrum of audience and takes a higher ground while addressing relevant social issues that we face on a day-to-day basis. He penned the jingle in the advert to reflect the same message.
---
Chlor-mint
🍫 "Dobara Mat Puchna" – a quirky campaign with an absurd answer to a seemingly innocuous question.
Chlormint was launched in 1997. In 2003, the ice-candy version was introduced.
It was targeted at the young people independent of the strata, who want fresh breath, especially after smoke or chewing paan. The focus of the communication was why Chlormint is eaten – bad breath. The challenge was to hide it, twist the story and make it a fun brand.
McCann Erickson led by Prasoon Joshi handled the brand with the task to create top of mind recall.
The Paanwala exists in most big cities, especially above the Vindhyas, and it is where smokers typically pick up their cigarettes. He is a decision-making influencer for products such as candy, alongside the traditional Paan and cigarettes. Paanwalas have popularized the transaction of giving candy instead of change (either intentionally or lack of it). These aspects were leveraged to create advertising which resonated with the audience.
---
Center Fresh
🍫 Center Fresh has created some of the most hilarious ads with their innovative tag line of 'Zubaan pe Lagaam'
The brand has stuck to the same tagline — Zubaan pe rakkhe lagaam — since 2007. Launched to meet the need gap of a liquid filled chewing gum, Center Fresh's initial advertising was largely tactical with campaigns like — Andar hai woh baat, conceived by longstanding creative partner O&M even before the people behind the current campaign joined the agency.
"Center Fresh has significant synergies, given their mouth-freshening properties and it was only a matter of time in getting this logical extension on the brand. We are extremely excited about this new launch and we believe this format will open up new avenues for consumption of paan in a quick and fun way."
– Chaitanya Shekar – group product manager – PVMI
---
Marketing Post Covid
In 2020 turnover for PVMI that controls 25% of the overall candy market in India was about 100 million INR but Confectionary is an impulse buy. So, it also bounces back quickly. PVMI was back to pre-COVID levels if not more in the early months of 2021.
"We have come back to 90% plus of pre-COVID level because kids still want to consume candies and gum whether at home or outside, it's just a question of somebody going out and getting it for them" – Rajesh Ramakrishnan, Managing Director
💡 The learning for Perfetti India was that consistency in campaign messaging across platforms (digital & e-com) has increased the saliency within eCommerce platforms and also has been appreciated by consumers for their relevance.
Occasion campaigns for Mento's social platforms (digital) were also linked to the eCommerce platforms in terms of consistency of messaging. This consumer campaign showcased various occasions relevant to consumption of Mentos Gum and Candies (before video calls, during binge-watching) and these were highlighted to the shopper while he/she was on the eCommerce platform to buy their favourite gums and candies. Similarly, Center Fresh Mints in Q4'20 launched a digital film that showed connections that were forged virtually (during the pandemic) can be equally rewarding, uplifting, and joyous.
What Consumer trends emerged strongly?
Rajesh shares three consumer trends that strongly emerged from the year 2020 and would form the basis of PVMI's future business strategy.
Power of the brand: During the pandemic, Consumers have been gravitating towards the brand they trust. In a way, it is like during the crisis you tend towards the people you trust, so it's the same. PVMI has strong, trusted brands in the country like Center Fresh, Center Fruit, Happy Dent, and Mentos that has kept the business ethos strong.
Value offering: The other thing which consumers look for is value during downtimes. Since there are economic uncertainties and probably less money to spend, value has been redefined.
Healthy Alternatives: Specifically for F&B products, whether it is immunity building or nutrition hygiene and health are noteworthy now. Food Fortification has been a major push factor for PVMI. For example, Perfetti had launched candies in orange and mango flavors with Vitamin-C and fruit juice in July 2020 which is doing well- Alpenliebe Juicyfills.
---
Build your AD campaign
Everything Design is a Bangalore-based communication design agency and we have an amazing team of content writers. Let's write you that copy that can help you with the Ad of your dreams!