Did Nestle Design the Marketing when they first launched Maggi in India? Or they just came up with a strategy?
If you have watched Shark Tank you would know how difficult it to convince an investors to join you for a retail businesses. One reason for that is getting space to display your product in retail stores is not an easy task. It is a very expensive real estate.
In 2004, "about 10,000 new suppliers applied to become Walmart vendors. Of those, only about 200, or 2%, were ultimately accepted"

– The Long Road to Walmart, The Wall Street Journal Online.
Walmart or a corner store, landing a spot in the shop is never easy.
On site display, low cost packaging, packing that prevents mice from spoiling the product were some of the challenges Nestle faced during the launch. In 1983, there was no Instagram Influencers, so shop keepers where the Influencers. Without their approval nothing got sold in the market.
In the kirana store the shopkeeper's recommendation carries a lot of weight

– Business Line.
So how did Nestle convince shopkeepers to display Maggi in their shops?
Hanging Basket !
Simple idea, but brilliant. Well most brilliant ideas seems simple once executed well.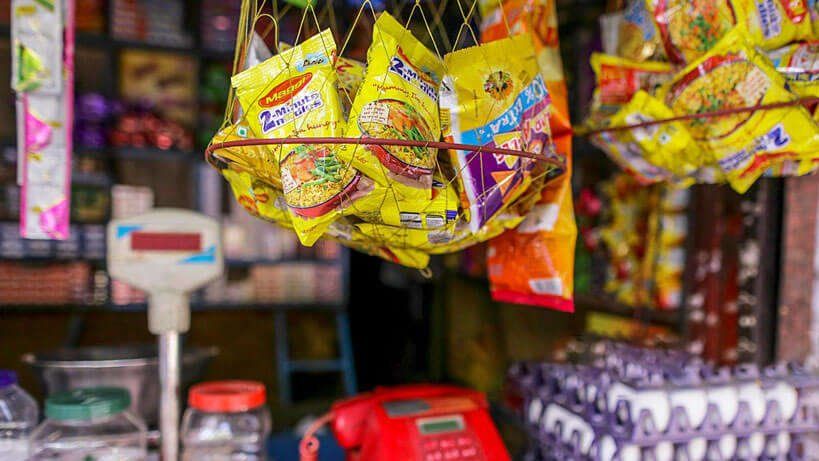 Hanging basket made sure it gets displayed well in the store without taking any shelf space and at the same time it was very much visible to the people visiting the store. So the idea was implemented across India and it was very successful in convincing the store keepers to keep Maggi in their stores. Soon the hanging basket was adding a huge cost to Nestle. The ground team of Nestle Maggi realised the fact the Maggi was not the only product which was hanging in the basket. Also it was getting used in many households for hanging various items.
In a typical environment normally a company will try to make sure Maggi is the only product displayed in the basket. But Marketing team of Maggi was clever. You know what they did?
They made Maggi Creatives to go along with the hanging basket.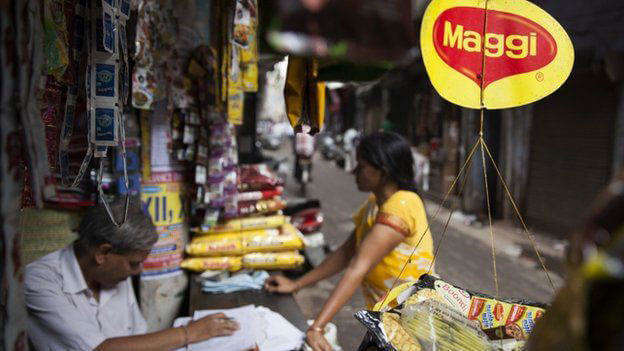 Another simple but brilliant marketing idea. Every household the basket goes to, Maggi goes too.
Marketing driven by ground level insight is what you just saw here.
We often don't give enough importance to the ground level people who interact with customers and retailers first hand. We tend not to listen to them, but listen to MBAs sitting in office in their own bubble who make marketing strategies and design marketing strategies and campaigns. I am not telling MBAs are irrelevant people. They are relevant if they are ready to listen to the market and have insights smartly without biases.
This is one great example how a marketing strategy got designed in a such a way that it made a huge impact on the sales. Who would have thought that those hanging baskets have such deep meaning. The team designed a marketing strategy and made their impact through simple , out of the box solutions in the challenging retail space. That was again just a starting point. With continuous campaigns Maggi Noodles built a unique relationship of love and manner of consumption among its customers.
You can spent a lot of money buying ads, paying influencers, giving offers and buying customers etc. But all of them tend to last only for a short period of time. If you want real sustainable results from a marketing effort, the marketing has to be designed well from real unbiased insights from people, with then can be supported by creatives and right execution.
Marketing is not just 4Ps anymore. It is much more complex than that. Well it may be still about the Product, Price, Promotion and Place, however the people who are designing the marketing strategy needs to look way deeper into all the 4Ps. Meaning, in this case the insights which led to the strategies used for packaging, distribution, display of the product in the store were all part of the success of the product, Maggi.
If you are planning to hit the market with a product of service you need to have Marketing, Sales, & Distribution Strategies. These strategies should be designed well after thorough research. Now the quality of research, time and effort spent on the research really matters. If you are doing a research with a certain bias you will always get the conclusion you want and chances are they will be wrong. Also if you are doing a research by asking the wrong questions again you will get your research wrong.
After all the research there are multiple ways you can market your business, sell your product or service, and distribute it to the consumer. You need to know what works best for your specific situation, and the only way to do that is to test. According to Barbara Corcoran, "You don't know the formula until you get out in real life and test it."
If Maggi marketing team would have sat tight after introducing the hanging basket, they would have just keep on providing new hanging baskets, adding the costs. But they listened to the market as they were progressing. Research and strategy is not a one time thing. Something that worked in the past may not work in the future too. Companies who are listening to the market with all ears and keep on evolving will last, other will fail.
The Two-Minute Revolution: The Art of Growing Business from Sangeeta Talwar is a must read for people who want to know about on-the-ground execution of strategies.
Sangeeta Talwar, the first woman executive in the FMCG industry, who established one of the most beloved and enduring brands of India-Maggi Noodles-shares creative and strategic lessons which can help you grow and add value to your business. Drawing from decades of first-hand experience in Nestle, Tata Tea and Mattel, she prescribes a plan of action that includes tactics such as keeping all the balls in the air, executing to perfection, being consumer obsessed and pivoting on profitability.
Insightful and packed with fascinating examples-from creating and launching Maggi Noodles to spearheading the highly effective Jaago Re campaign for Tata Tea-this book suggests tried and trusted strategies for building extraordinary brands.
Most times you don't need artificial intelligence, big data, machine learning, digital transformation and a lot of things most people don't really understand but still pretending to understand and going with the flow. Yes, all those can help you, but if you can't understand the real on ground scenario, customer needs and insights to both of them all those big words are just useless technologies which means nothing. All those big words do show you patterns, but insights and designing something based on the insight is your job.