Imagine walking into a store and looking for your favorite Dove shampoo, the Hellman's mayonnaise without which your fries don't taste as good, or Comfort conditioners that make freshly washed clothes feel as lovely as their fragrance. But, you're able to find none!
You approach the manager and he smiles, "Let me take you to our Unilever section". You are a little taken aback but then realize your favorite brands and products come under the same label – a base connecting all.
This is exactly what we call brand architecture!
Wait, you will head to the shelf to check the toiletries and find out what I said is true, but before that, let's get a little into how brand architecture works
What Is Brand Architecture?
Brand Architecture is defined as a matrix of brands in an organization, precisely an inter-relationship between the sub-brands of a company. Put simply, it is nothing but how a network of products interacts within a single firm that owns all of them.
This network can be classified into 4 categories, namely the branded house, the sub-brand, the house of brands, and the endorsed brand in the correct order.
What Are The Key Components Of Brand Architecture?
Brand architecture is a company's organizational structure that can be broadly classified into four categories – master brand, sub-brand, and parent brand. Let's elaborate on what each of these means.
Master Brand
This is the main brand of a business and is the most well-known and recognizable among consumers. It may either be the original brand name, or a parent company that recently took over the brand.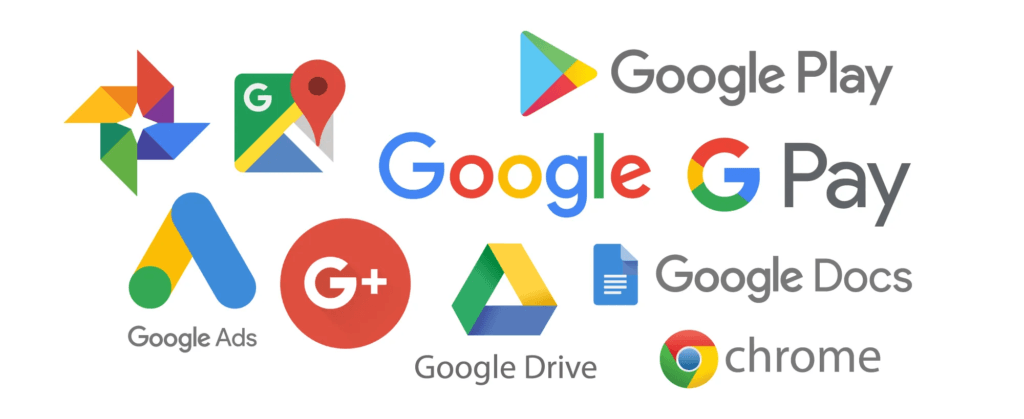 The master brand is usually visible as a logo on all products and services manufactured by the business and is generally the same as the name of the company. The sub-brands it has would be able to cross-sell between their audiences because they are already well-acquainted with the brand from which they are purchasing.
Prominent examples include Google, Intel, etc.
Sub-Brand
Sub-brands are those that are under the wing of the master brand. They usually carry the latter's name and logo but have distinct characteristics and features in terms of either an exclusive version or something that everyone can afford. However, they share values and core management with the master brand.
Examples include Viao by Sony laptops, which used the master brand name but offered exclusive features. However, the company chose to discontinue production due to high costs and the brand not clicking well with customers.
Parent Brand
The parent brand is at top of the brand architecture hierarchy and owns every sub-brands, including the master brand in case the master brand is different from the parent. It may or may not have its logo on all products.
For example, Cadbury's (master brand) parent company Mondelez International does not use its logo anywhere in the former's products. Instead, it has a separate logo for Cadbury making it a brand itself.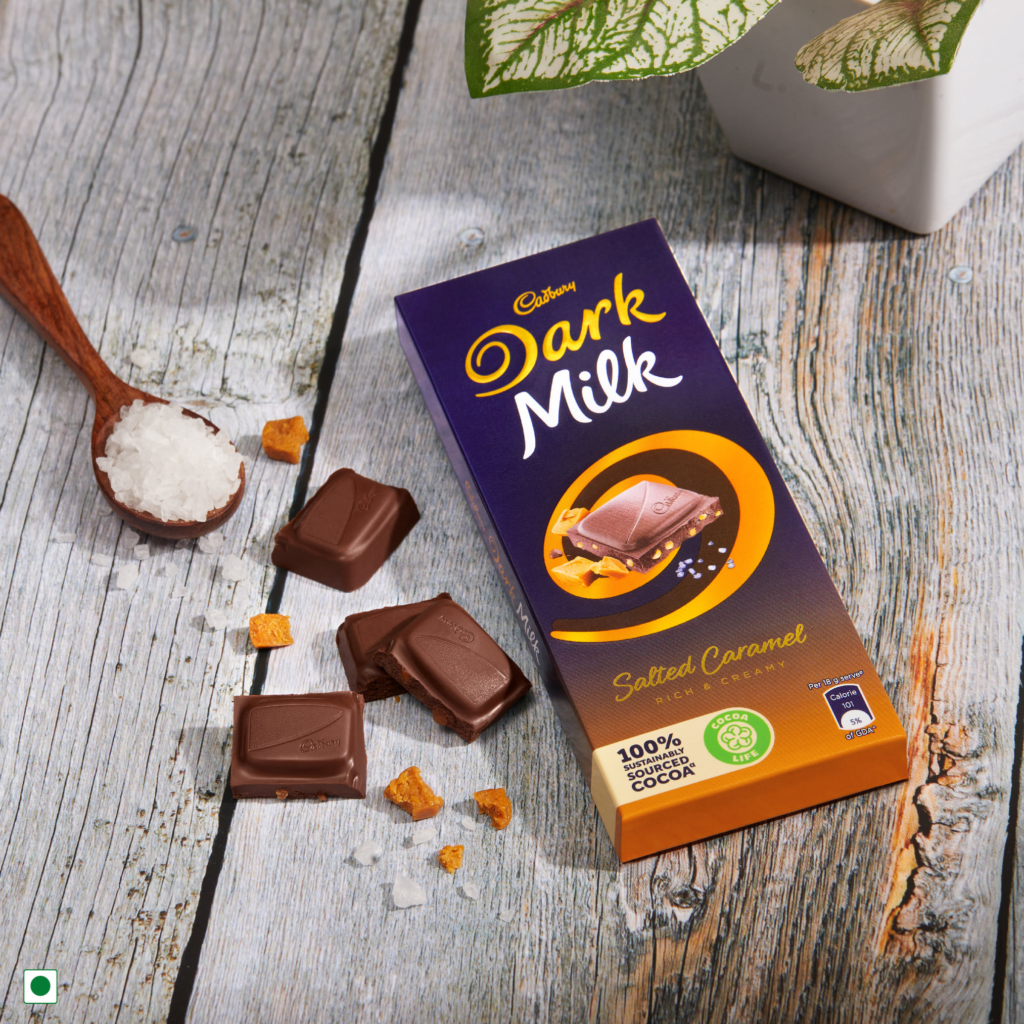 What Are The Types Of Brand Architecture?
Branding architecture can be classified into the following categories:
Branded House
The branded house is the main body or label under which all the other brands are marketed and operated.
For example, the parent company Apple owns divisions such as Mac, AirPods, iCloud, etc. where Apple is the branded house and the others are the sub-brands.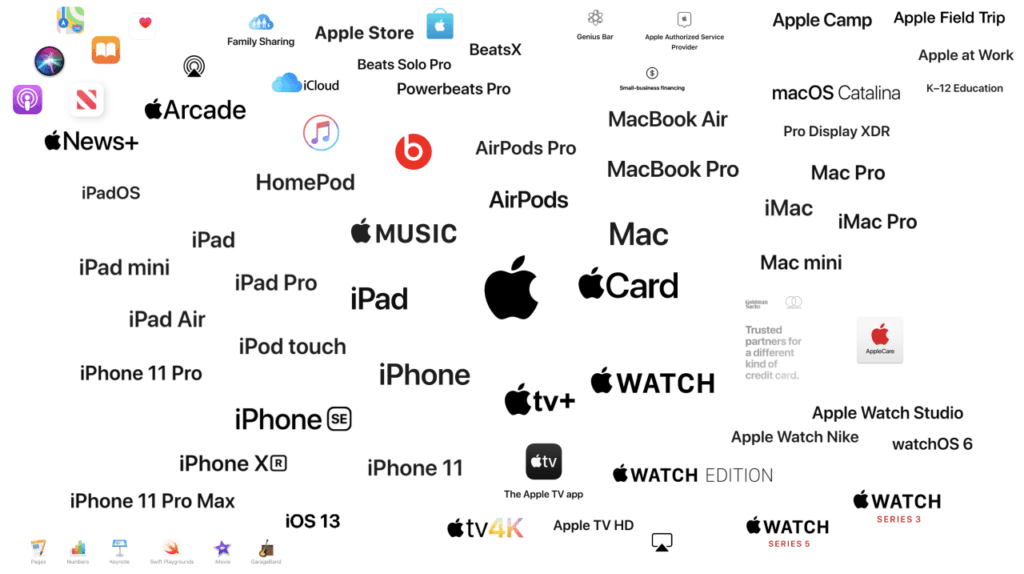 Sub-brand
A sub-brand is a brand within a brand and carries the actual (branded house) name in its logo. The purpose of a sub-brand is to have a specialized focus on certain sectors of consumers and widen the base of purchasers as a whole.
Coca-Cola came up with four sub-categories under the same brand – normal coke, coke lite, coke zero, and diet coke to cater to different sectors of consumers. Health-conscious consumers would opt for coke zero or lite since it is low on calories but the brand promises the same taste and satisfaction.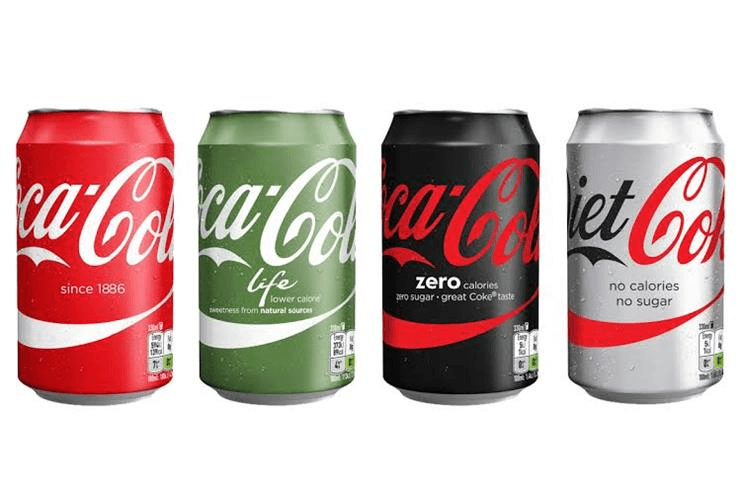 This is one of the key marketing mechanisms of a company and helps them remain consistent and retain the loyalty and preference of the purchaser
House of brands
House of brands is creating a unique identity for several labels under the same parent body in such a way that each of them appears distinct from the other.
For example, brands under Proctor&Gamble such as Head & Shoulders and Pantene appear as two distinct brands and as potential competitors even though they belong to the same company.
This is a strategy by companies to create competition among their sub-brands so that even if consumers think they're purchasing a better product/rival of the one they previously used, the revenue ends up with the same company.
Endorsed brands
Endorsed branding uses the branded house's existing reputation to grow its base and build consumer loyalty.
The parent body may or may not necessarily be involved in the operations or marketing of brands of this kind but participate in principle decision-making activities such as policies and operating procedures of the labels.
A prominent example is IHCL hotels endorsed brands such as Qmin, which use the brand's name and report to the board but have independent marketing and operation policies.
What Are The Advantages Of Brand Architecture?
Good and efficient brand architecture is necessary irrespective of the type of business you are in. Even small brands can take advantage of perks arising from measurable performance improvements by better planning and execution of what they have on offer. Here's are a few noteworthy points on how brand architecture helps:
5 benefits of a good brand architecture
Helps in creating a clear picture of what the business is, what products it manufactures, what are the principles, and what is the brand's message.
Establishes the brand architecture framework design such as a number of levels required in architecture hierarchy, branding strategy of the organization, global, local, and regional brand portfolios, etc.
Importance Of Branding Architecture In Business
Branding architecture is important since it helps the management plan and coordinates effective policies that work best for a business. It also helps recognize the targeted customer base and helps increase turnovers.
7 reasons why brand architecture is relevant to your business
Helps in framing marketing policies
Branding architecture is essential to frame the marketing plan for a business. This is because it identifies the brand's SWOT – strengths, weaknesses, opportunities, and threats.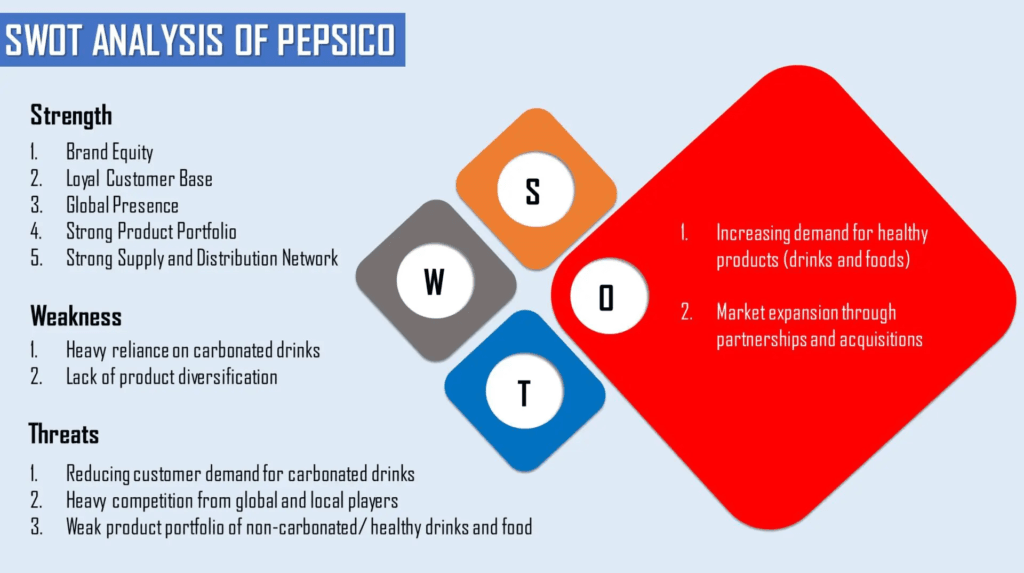 SWOT analysis is an important step toward framing effective promotion policies since it helps identify where a brand/sub-brand is doing well, what needs to be improved about it, how promising a new sub-brand or category turns out to be, and who are the potential competitors.
Branding architecture is a vital step towards identifying a brand's target audience, especially via the house of brands where each of the products holds a distinctive identity.
For example, Tresemme is a stiff competitor for Sunsilk and there are several consumer opinions on which is the most effective. Both are owned by the same parent company but are up against each other once in the commodity market.
House of brands creates an internal competition among the products and helps identify which product is doing the best, attracts maximum consumers, and which requires performance re-assessment.
Creates a diverse brand identity
Branding architecture is an essential component for creating a brand's identity and a dedicated consumer base for it.
Classification into sub-groups like the example of Coca-Cola highlighted earlier helps create separate markets for a product while retaining or making minute alternations to the original brand image.
Identifies which marketing message works best
With time, branding architecture is an effective tool in identifying which method of brand story-telling and marketing approach is attractive to the current period and sect of consumers.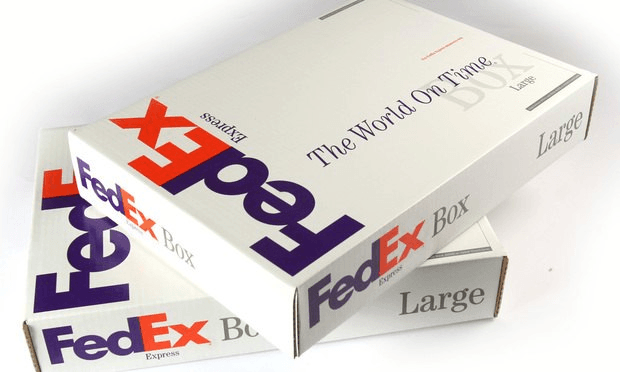 FedEx recently [changed its tagline from The World on Time to Where Now meets Next channeling the infusion of innovation into the company's operative procedure that is proving to be its greatest perk.
Helps a brand stay organized
Now that is a key component of great brand architecture – organizing a business' internal operations and making sure every department works by the set guidelines.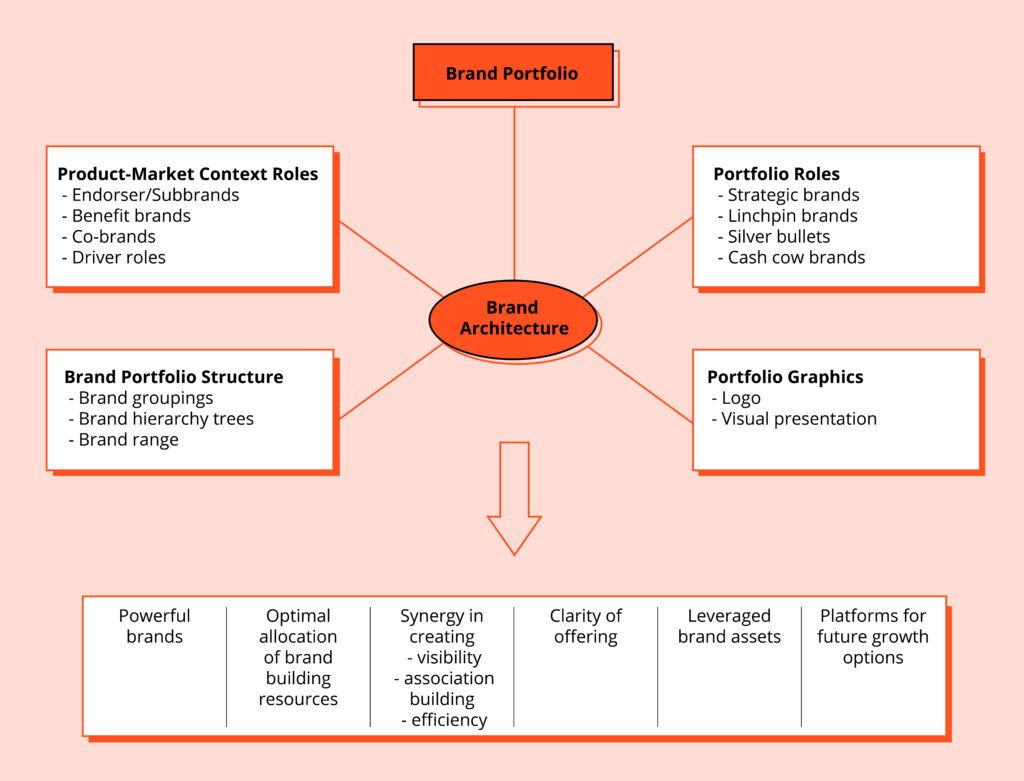 This is done by allocating brand quality managers who ensure smooth operations along with ensuring the label's reputation as a whole is maintained.
Ensures better revenue distribution
The biggest strength of a company does not lie in making great numbers but in the efficient distribution and infusion of revenue for the expansion and growth of their business.
Brand architecture helps with better fund allocation since it identifies areas that require fund allocation and where funds can be cut down on. It tests the ability to effectively pair sub-brands with funds and thereby enhances productivity.
Establishes areas to focus on
Last but certainly not the least (rather a highlight if I put it in that way) of brand architecture is shedding light on which areas of your business are not doing well. This is more important than which sectors are performing since:
Let the good news take the steps and the bad news the elevator

Narayan Murthy (Infosys Founder)
Focusing on what you can improve on and how it can be done is a key component of branding architecture.
For example, ITC re-launched its soap brand Vivel as more than just a soap brand with new designs and taglines after accessing its performance and that correct rebranding can change its market statistics. This brought in a massive boom in sales and positioned the brand at par with premium the company's premium Fiama Di Wills sect.
Misconceptions About Brand Architecture
Brand architecture is however accompanied by many myths, three of which are as follows:
3 common notions about brand architecture
Branding architecture = only organized marketing!
This is perhaps the biggest ever myth.
The true power of brand architecture lies in creating more than just a business. It focuses on forming an identity that has values, is authentic, and lives up to its market intentions of being dependable for the consumers, making a business strong and sustainable.
Brand architecture showcases the innovation power of a business.
Yet again incorrect! Design and language are imperative to creating brand architecture, however, it is driven by strategic visions of a brand to feature its standing and reason for existing in the market.
Brand architecture is not required for B2B startups
The biggest mistake you will ever make.
It is equally important to educate the business that decides to procure from you because they base their decisions on the tiered versions of your product, its proprietary features, and specialized applications.
How To Choose The Right Brand Architecture?
Utilizing the benefits of the right kind of branding architecture is paramount to your business' success. There are four very clear points on what should be the center of your attention while planning an effective layout.
4 tips to select the best brand architecture for your company
A great brand layout is all kudos to how well designed it is, especially when it comes to the house of brands. A branded house might have a catchy design but if the sub-brands aren't equally attractive to look at, it's time to rethink the purpose of your business.
Examples of fabulous brand architecture include jewelry brand Tanishq which owns the likes of Caratlane, Mia, etc.
The evolution of a company depends on how well a storyteller they are. Be it via advertisements of sub-brands, taglines, or social media, a good brand architecture should always aim at connecting with the audience via communicating what the brand's values are and what they choose to communicate.
Make use of your brand's existing reputation
If the branded house is already a well-established name, its consumer base can be driven towards a new sub-brand that is about to be launched. This helps retain confidence in the brand's authenticity and people are more drawn to make a purchase.
When Apple decided to make iPhones for the first time, its chief marketing strategy was to acquire the iPod user base through brilliant ad campaigns that updated users on how their experience is about to change.
As always, simplicity makes you win! Don't go overboard with any of your designs or marketing strategy. Design your brand layout such as logos in a way it's understood and perceived in the right way by your audience.
Consider amazon's logo design represents the brand's evolution – the current smile indicating that whichever sub-brand or product sold by the company you choose to engage with, will bring a smile to your face.
Want to build the perfect layout for your brand?
Our team at Everything Design is here to provide you with expert insights and the best design layouts that will make your company stand out. Connect with us via WhatsApp or email and get insider tips delivered straight to your inbox!