We have been working on branding and marketing for many organizations. So we know what works and what doesn't in the case of marketing communication.
Your website is another medium for your marketing communication. When we combine our branding expertise with visual design, UI, UX, copywriting, SEO, interactions, and webflow development – you get the best output.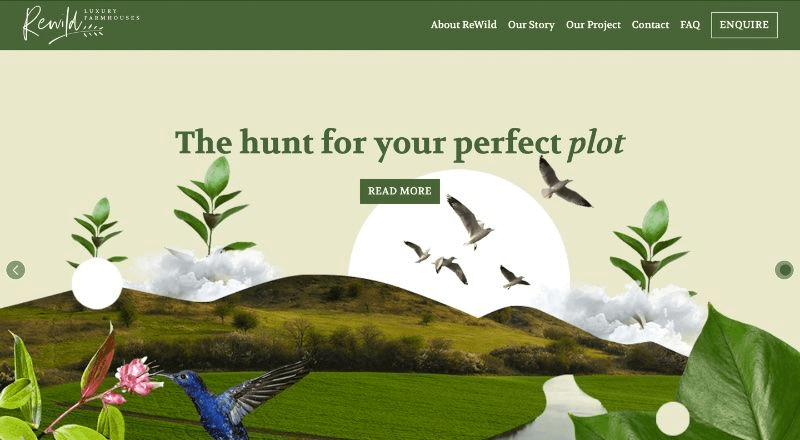 When it comes to hiring a website design agency, there are certain questions you should always ask. For example, Do not hesitate to ask whether or not the web design company performs all of its services in-house. This includes design (e.g., Photoshop work), coding (e.g., HTML, database creation, PHP), writing, content creation, and marketing.
A team well versed in all arenas is apt to merge its talents to create a successful site. When all the work is performed in-house, the synergy results in greater communication, collaboration, and an overall better quality product. The last thing you need to encounter is a deficiency during the web design or development phase that requires help from another company, along with additional costs beyond your initial budget and increased timelines.
Now that you have an idea of the different aspects of a website design, let's look at the three things that make us stand out from other website design agencies.
Three things that make us stand out from other website design agencies
1) Our core expertise is branding and marketing communication. That expertise will naturally flow into the websites we create. We research, understand, and derive a key insight that will make you differentiate and communicate the same.
We build Brands. We do Branding and Communication Design. We build brands seeing the bigger picture. If branding is about making a promise, service design is about figuring out ways to keep the promise. When your customers see that you truly value them and care about the service you can provide them, they'll be customers for life.
If you break your brand promise, you will suffer negative effects by word of mouth, which can be even more damaging to a business than a direct negative experience. Your brand promise is tied to your brand reputation, and you want to make a big enough splash so that delivering on your promise ripples indefinitely!
Service Design is a philosophy based upon the principles of design thinking, but focused on innovating services. We design brands considering 'end-to-end' experiences, instead of optimizing the single touch-points of a product or service.
Together we go through the entire innovation process, starting by talking to users to uncover issues and ending by testing our solutions with them. Only then can you design brands with a purpose that will have meaning and lead to positive results.
We strongly believe in the combination of Service Design with Brand Design and Communication Design to make a difference in your company, because when your business and the service you provide are based on deep customer needs you create meaning for your customers.
Another difference between content writing and copywriting is that the latter often invokes an emotional response, while the former does not. According to research conducted by Harvard University professor Gerald Zaltman, over 9 in 10 consumer purchases are driven by emotion.
Fear of missing out (FOMO), for example, may compel a consumer to buy a product so that they don't miss out on its benefits. With the rise of social media, many consumers now feel compelled to buy and use new products after seeing their friends use them in social media posts.
But, amidst all of this, there's one important aspect common in all – the power to innovate effectively.
Without an innovation strategy, innovation improvement efforts can easily become a grab bag of much-touted best practices: dividing R&D into decentralized autonomous teams, spawning internal entrepreneurial ventures, setting up corporate venture-capital arms, pursuing external alliances, embracing open innovation and crowdsourcing, collaborating with customers, and implementing rapid prototyping, to name just a few.
Rather than trying to produce more or better content, marketers should focus on their distribution plans. It should be part of their overall strategy. However, it's likely just an afterthought for most of the 64 percent of marketers who feel they're not using their content effectively. So rather than debating quality versus quantity, marketers should be debating how much to spend on promotion.
3) We use Webflow as our CMS (content management system). This means that we can easily update your site with new content and features without having to hire another developer.
Our approach and website creation process are fine-tuned and optimized perfectly for Webflow development. It allows us to streamline the project, cut out any redundancy, and better allocate the time and budget.
Webflow comes with performance optimization features to make your site run even faster. You do not depend on any cache plugins, which creates a lot of headaches most of the time. I will expand on this as another benefit.
If your site's content becomes popular and you receive a lot of attention on social media or other channels, the concentrated surge of traffic might knock your site to its knees. A great success might quickly devolve into a performance disaster.
Webflow websites we have built
Did you know? Users spend an average of 5.94 seconds looking at a website's main image. And, once on a company's homepage, 64 percent of visitors want to see the company's contact information, and 44 percent of visitors will leave if there's no contact information or phone number available.
The end goal of the user experience on your website should be to create a conversion by having a user get in touch with you.
Get to Know Us!
Everything Design is a leading website development company in Bangalore, that offers website designing solutions using webflow that create waves in the web world and return substantial results.
Need some creative web design backed up with a secure content management system? Do you also require assistance with your content production or some much-needed Search Engine Optimization? Don't fret. We've got you covered. WhatsApp/drop us an email today!