Mastering copywriting gives you a full toolset that can help you stand out amongst the millions of content pieces that are published daily.
Writing headlines: The most important copywriting skill
Traffic to your post will vary depending on the power of your headline. If you fail to make it impactful and clickable, every other marketing step that you take will be a total waste of time. This is applicable for every single piece of your marketing material – website, brochure, blog post, poster, etc
Making Ads Pay – Why does one ad succeed, while another fails? This classic by a veteran copywriter analyzes hundreds of profitable ads, offering many side-by-side comparisons between similar but not equally effective ads. These analyses yield principles, procedures, tips, and practical suggestions — each tested with decades of experience — that can be immediately applied to every medium and style of advertising.
The Adweek Copywriting Handbook: The Ultimate Guide to Writing Powerful Advertising and Marketing Copy from One of America's Top Copywriters – Great copy is the heart and soul of the advertising business. In this practical guide, legendary copywriter Joe Sugarman provides proven guidelines and expert advice on what it takes to write copy that will entice, motivate, and move customers to buy. For anyone who wants to break into the business, this is the ultimate companion resource for unlimited success.
Scientific Advertising – David Ogilvy wrote that "Nobody should be allowed to have anything to do with advertising until he has read this book seven times. It changed the course of my life."
Copyhackers – The trusted go-to source for copywriters, marketers and entrepreneurs.
Verygoodcopy – Micro-Content about copywriting, marketing & creativity.
5 Quick and Easy Copywriting Rules to Live By – Dave
1. Write Like You Talk
2. Write Choppy Copy
3. Get Them to Read the Next Line
4. Pronouns, Pronouns, Pronouns
5. Fill your copy with REAL examples.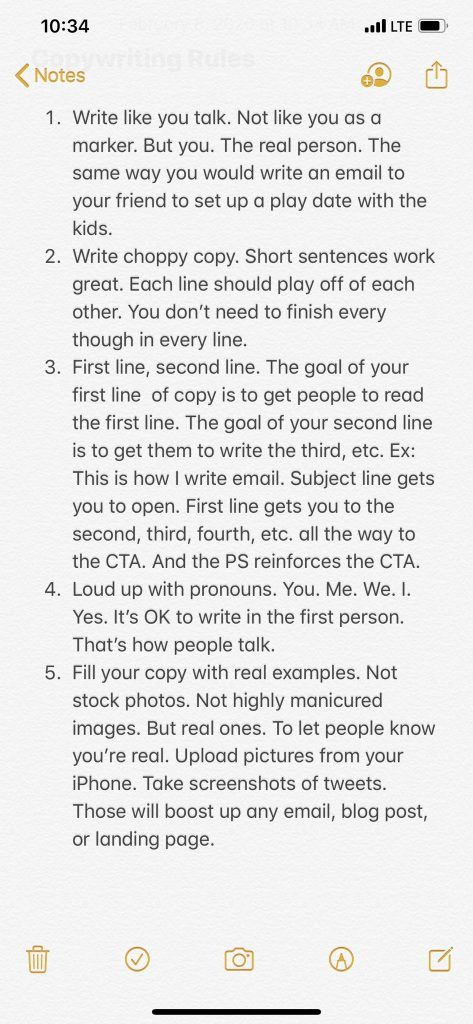 Stop Being Boring: How to Get Funny With Your Copy (& Get Customers)