Blogging is not about writing a beautifully crafted write-up. It is about meeting your audience's needs (search intent). What you write in the form of a blog needs to fulfill the demand on the internet.
Every time you seek an answer for a question, want to complete that assignment due tonight or even research about a topic, as random as it could be, our one-stop go is to Google it.
Blogs and articles flood the search results more than they have ever before. Today, blogging has even become a full-time career for many!
What this means is that if you start blogging, you set yourself to interact with millions of people with your content as a medium.
As easy as it has become to start a blog today, it has become equally difficult to reap success out of it. Just like any other thing, blogging should also be approached with the right framework.
So, just how do you start a blog as a beginner?
Here we share with you five easy steps to get you up and starting with blogging. We also share with you some of the best practices in terms of basic SEO and tips on what to do and what to avoid while blogging.
How to start a blog in 5 simple steps?
Step 1: Select your niche
Step 2: Choose a blogging platform
Step 3: Set-up your site: Domain name and hosting
Step 4: Start a blog on WordPress
Step 5: Write and publish your blog content
Blogging can be a hobby or even a full-time career. What it offers is a platform for individuals to express their opinions, help others, add value to the audience, provide product support to customers, and even grow into an industry thought leader.
Step 1: Select your niche
A niche is simply a narrowed-down topic of interest. In order to find your niche you can:
1. Jot down a list of your interests, education and skills
2. Derive blog topics from that list
3. Figure out if your target audience likes to read the subjects on which you write
However, while shortlisting topics from your list, it is important to follow two criteria:
I. Choose a niche with a broader scope and topics that are trending.
In other words, choose a topic that people want to read about. Something that is sought after by a specific set of audience.
You should also make sure to choose a niche that is broad enough to blog for a longer period of time. Do not pick up a niche that is too narrow that you run out of ideas within a month. At the same time, do not choose a niche that houses a wider scope and dilutes the core of the subject.
II. Choose a topic that has low competition
This is from an SEO point of view.
SEO, in simple terms, refers to search Engine Optimization. It is the strategic use of words (keywords) in your blog content to help Google understand what your blog is talking about. And further help your target audience discover your blog on search.
A topic that is trending, on-demand, will have established market players and hence, a higher degree of competition. Whereas a topic which although people are interested in, is not very competitive, serves as your best catch.
The lower the competition your topic has, the more visitors will read your blog about it. A simple Google search will reveal if there are already a lot of blogs on your desired topic. Try to pick a topic that has less relevant search results.
Okay, now how to choose the right topic?
Tools that help to choose the right blog topic:
Now that you have chosen your niche, you can get started with choosing the right topic with the help of several tools, two of which are- Google Trends and Buzzsumo.
Google Trends is a tool that you can use to analyse the search interest for your desired topic. You can do this using relevant words for the same.
For example, you can use these tools for a topic like 'blog writing'.
Google Trends will show you that there was a spike in blog writing with the corresponding time of this spike. It will also show you a geographical mapping of the interest in the topic, which in this case shows Vancouver and Portland as the states with the highest interest in the topic of blog writing. Also, related words and searches can be seen on Google Trends.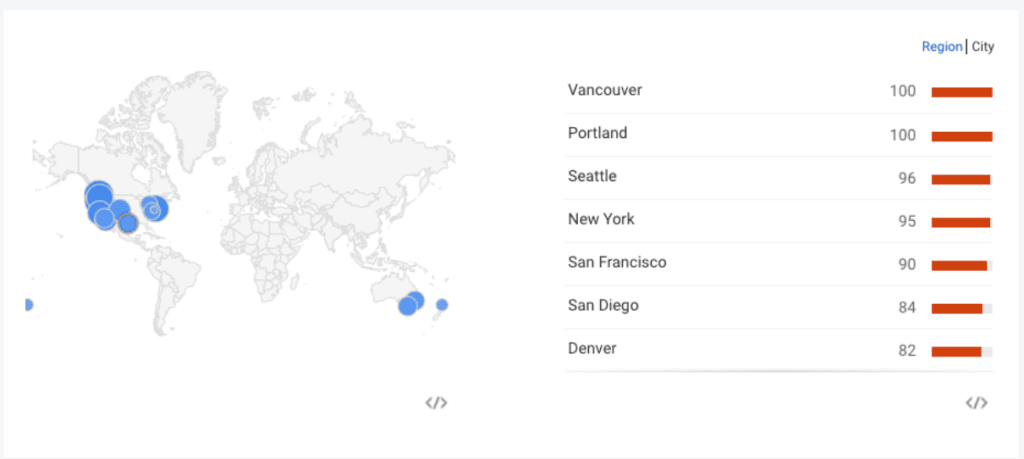 The second tool we have for you is Buzzsumo. This tool essentially tells you the different sub-topics related to 'blog writing' and how social media has reacted to those topics.
Data from different social media platforms like Facebook, Twitter, Pinterest and Reddit is pooled-in to show you the engagement levels. For a broader comparison, the Total Engagement is a good indicator of the interest in the sub-topics.
Taking the example of 'blog publishing', Buzzsumo results are shown below. Zoom in to see the results more clearly. As you can see, the story on an Amazon announcement is a unique subtopic that has received a lot of engagement.
The results show basic social media metrics like how many Facebook engagements, Twitter shares, etc.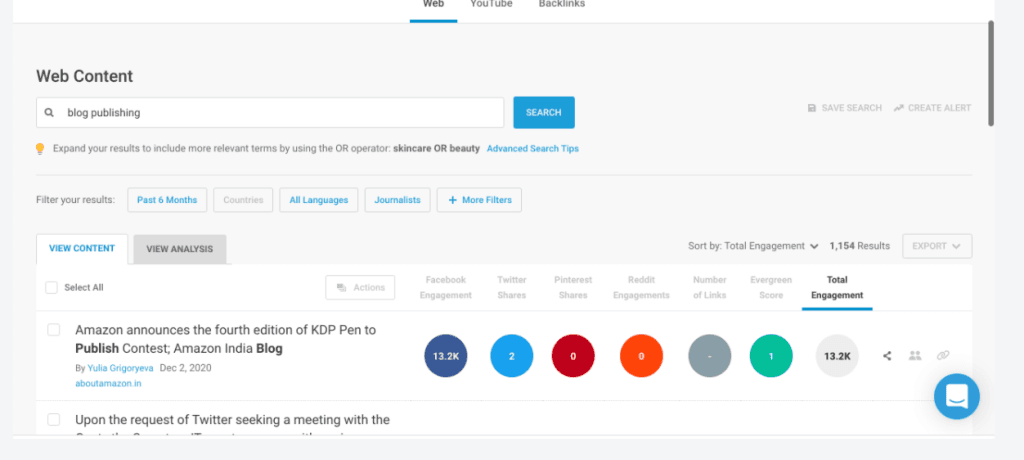 Step 2: Choose a blogging platform
A blogging platform is simply a medium you'll use in order to blog.
You have an option to either go for a free blogging platform or use self-hosted blogs.
A self-hosted blog is where your blog lives on your own server. It takes time and effort, requires practical knowledge of coding and storage. If you are already blogging and are considering taking it seriously, then a self-hosted blog will serve you best with its ads optimization and storage facilities.
A free blogging platform is the easiest option available out there. It is simple to set-up and use, and is perfect for absolute beginners and people with no coding knowledge.
Although it comes with limited resources, it works just fine for beginners.
There are a bunch of free blogging platforms, some of which are – Blogger.com, WordPress.com, Wix.com, etc.
While WordPress is the most widely used platform, Wix offers some good design and visual elements. Similarly, each platform has its own pros and cons which you can individually weigh to choose the one that suits you the best.
Step 3: Set-up your site: Buy a domain name and hosting
Once you've selected a blogging platform, give your blog an identity.
Just like a human, a brand, your blog needs an identity that differentiates and directs others (audience) to identify and discover your blog.
Start by choosing a name for your blog. Take some time to think of a name that best works for you.
Now that you've got a name in your mind, go ahead to check the domain availability.
What's a domain name?
A domain name (often simply called a domain) is an easy-to-remember name that's associated with a physical IP address on the Internet. It's the unique name that appears after the @ sign in email addresses, and after www. in web addresses. Examples of domain names are google.com and wikipedia.org.
Your domain name will be the name you'll be known by in the online world. Your unique domain name will be yours as long as you pay to keep it yours.
How to buy a domain name?
1. One of the best sites to buy a domain name is GoDaddy.com.
Once you visit the site, start by typing in the name of your blog or a domain name that you prefer, in the 'Search Domain' bar.
You would be able to see the options for the domain names that are currently available.
Some best practices while choosing a domain name are:
Choose a .com (ideal but not necessary)
Avoid hyphens
Avoid numbers
Choose a short name
Choose a name that is easy to say
Check if other entities with the same name exist on social media
Avoid copyright issues
Note that these points are only best practices and not rules. Hence, they can be relaxed in different cases. For example, domain extensions like (.in) or (.co.in) are equally effective for a blog site. In fact, take the fitness brand cure.fit for example, a site which is working really well in spite of using .fit as the domain extension, due to ease of usage and the relevance of the (.fit) extension to the brand image.
You can take multiple attempts at deciding which domain name is the most relevant as well as available to buy on GoDaddy.com.
2. Select the domain name of your choice and add it to your cart.
You need both a domain name and hosting in order to launch your WordPress blog.
A web host, or web hosting service provider, provides the technologies and services needed for your website or webpage to be live online and accessible to others.
For the current purpose of your blog, the 'Starter Plan' is more than sufficient. As your blog grows, the hosting package can be extended and expanded according to your convenience.
3. Click on 'More' and then 'Hosting' at the top of the home page.
You will then see a large number of plans appear.
4. For your purpose, you can click on 'Web Hosting', which is the most relevant for you.
5. On the next page, scroll down and click on the 'Starter plan'.
It is sufficient for your purpose, as of now. Then, you can proceed and make your purchase.
Next, you will be asked to select the duration of the plan you intend to keep. You can select one month, which you can extend afterwards when it expires in order to keep your website and blogs live with time.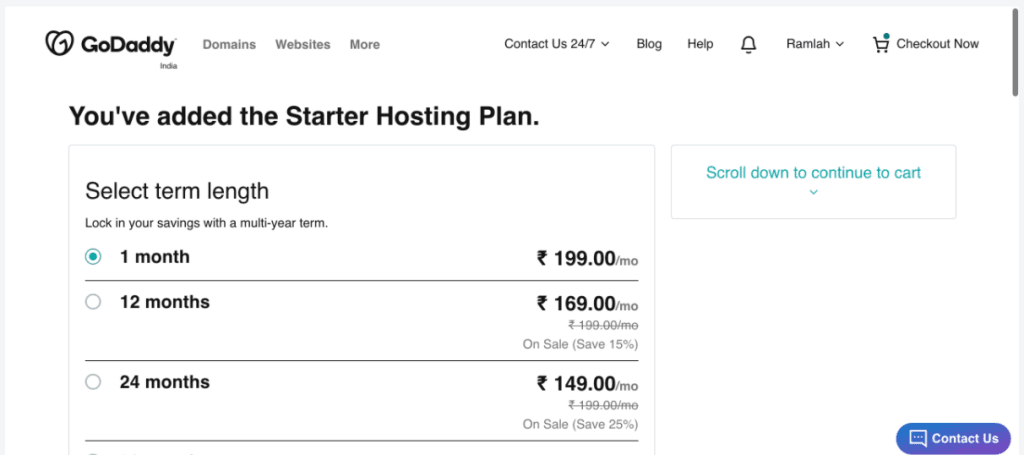 After the successful payment, you now have your website with a hosting ready to go!
Now, you can start right up with writing your blog!
Step 4: Start a blog on WordPress
You will have to start with installing WordPress on your website.
Let's understand how to install WordPress!
Step I: First, go to your account on GoDaddy.
Step II: Click on your name at the top of the GoDaddy home page, and then click on the 'Visit My Account' button.
You will then be shown your products and services. You will be able to see your domain name and web hosting site.
Step III: Click on 'Manage' next to your web hosting site.
Step IV: On the next page, click on 'cPanel Admin' in the top right-hand corner.
You will then be taken to cPanel's admin page.
Step V: You need to click on WordPress in web applications, which will launch your WordPress site.
Akismet and Yoast are useful plug-ins that help in avoiding spam and facilitate search engine optimization, respectively.
A few more useful plug-ins that you should consider adding:
Yoast SEO: Helps to improve your SEO and scans for readability.

UpdraftPlus: This plug-in helps safeguard your site from hackers, as it creates automatic and manual backups.

Revive Old Post: This plug-in helps drive traffic to your website by posting both new and old posts on social media.

Elementor: This plug-in helps transform your landing page with beautiful designs and exclusive effects, all without a web developer. It just gives your blog that extra aesthetic look, easily.

WPForms: This plug-in helps create beautiful and attractive contact forms with predesigned templates.

Redirection: This plug-in automatically tracks all error pages and ensures that the user is redirected to a functional page.
Step 5: Write and Publish your Blog content
When it comes down to write a blog, you have two options in your hand: either write long elaborate blogs or go with a short, simple blog. The decision whether to choose a long-form or short-form content approach is totally up to you, your niche and what your audience wants. You can learn more in detail about long-form vs short-form content here to pick which one best suits you.
Now, all that is left of you to do is write a blog and hit the publish button!
Few tips to start blogging with the right approach
Always spend time on phrasing and rephrasing the title of your blog. It is the first thing that your audience reads and it is the primary driver of your audience's decision to whether open your blog and read through. So keep it attractive, catchy and precise.

Use simple, common language. Do not try to throw fancy vocabularies in your blog unless it is required. Try to keep the language simple and easy to comprehend. Remember that most of the readers are general people with average comprehension(unless your niche is focused)

Include multimedia. Include pictures and videos in your blogs. It gives clarity and context to the text, reduces the monotony of words and gives life to the content pieces.

Give credits. Always give credits or site the source of your content, image, video, or anything you include in your blog. Plagiarism and copyright infringements are not on the table when it comes to blogging.

Be consistent and provide genuine value. Consistency is key and so is the quality of your content. These two things will reap you immense benefits in the long run. Set days and time to publish your blogs; weekly thrice? weekly once? every Friday? monthly thrice?
That's all. You are all set to kick-start your blog site.
Go grab a coffee, gear-up and start blogging, right away!