There's been an explosion of dating apps in recent years. It's easy to focus on digital love finders like Tinder, Bumble, Grindr, Her, OKCupid and Hinge, but there are also more niche romantic services.
Uniqueness sells, especially when there's a sea of competition out there.
Finding love on Thursday
Thursday is all about seizing the day and making most of the opportunities to socialise in person. After all, we've all had our fair share of isolation over the course of various lockdowns.
Thursday made its debut in London and New York on Thursday 27 May, 2021. It got over 100,000 likes and helped love-hungry singles secure almost 7,000 matches in one day.
A Dating App built on Scarcity
Dating app, Thursday, does scarcity really well. By restricting usage of their app to just one day a week – Thursday – the brand has created more hype for its product. To create a distinction from competitors, Thursday taps into the feeling of 'dating app fatigue' that young people are increasingly expressing, and the common complaint that they can spend hours chatting but never actually meet.
In doing so, they've added another layer of excitement, reducing the monotony of typical dating sites, where users would spend hours scrolling to find someone. With only 24 hours to use the service, users are forced into quicker decisions, as they know once Thursday is gone, so is their chance to use the app.
Matt McNeill Love, Thursday's co-founder and COO, summarises what their dating app sets out to change:
💁🏻‍♀️ "We just cut out really boring sort of, 'Hey, how are you' conversations that go on for weeks and weeks and weeks at a time…"
👩🏻‍🤝‍👨🏽 "We just condense all of that into one day. It encourages people to act and go grab a drink after work."
George Rawlings
Co-founder & CEO at Thursday

I can't watch this 🤣 💀 😭 SOUND ON 🔉

Me and my co-founder, Matthew McNeill Love, started a dating app called Thursday and we're here to share our story.

Problem is we can't even introduce ourselves. Good start.

Posted just because it's a Thursday.

Thank you Mountbase.

https://www.linkedin.com/embed/feed/update/urn:li:ugcPost:6932973287798951936

---
Thursday is not only using its product to distinguish itself from competitors, but also its marketing
1. Guerilla Marketing
The great thing about prioritizing efforts within a single city is hitting the streets and speaking to your users. Thursday took a leaf from the book of guerilla marketing when Marketing Intern Anya Jackson donned a cardboard sign while carrying a few dozen bright pink balloons around central London.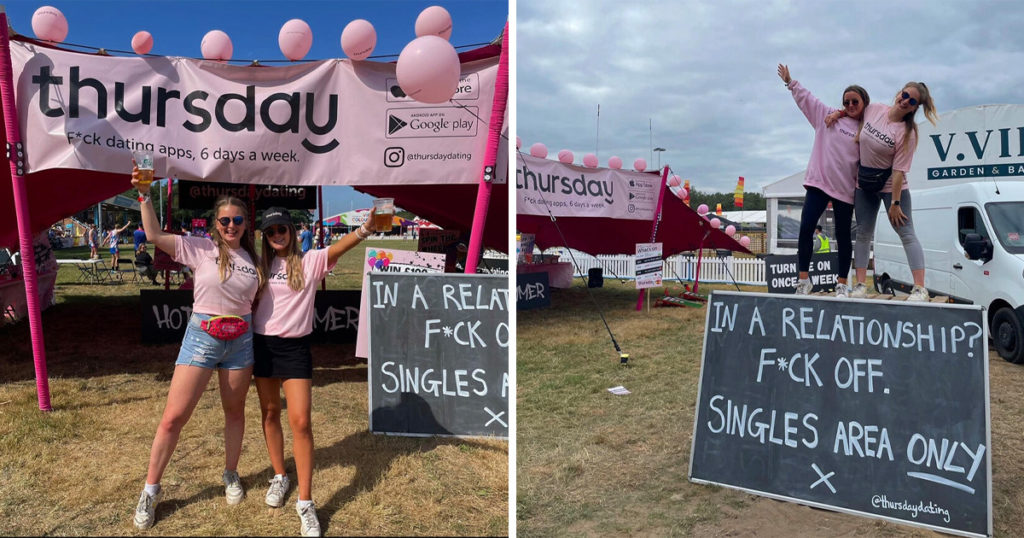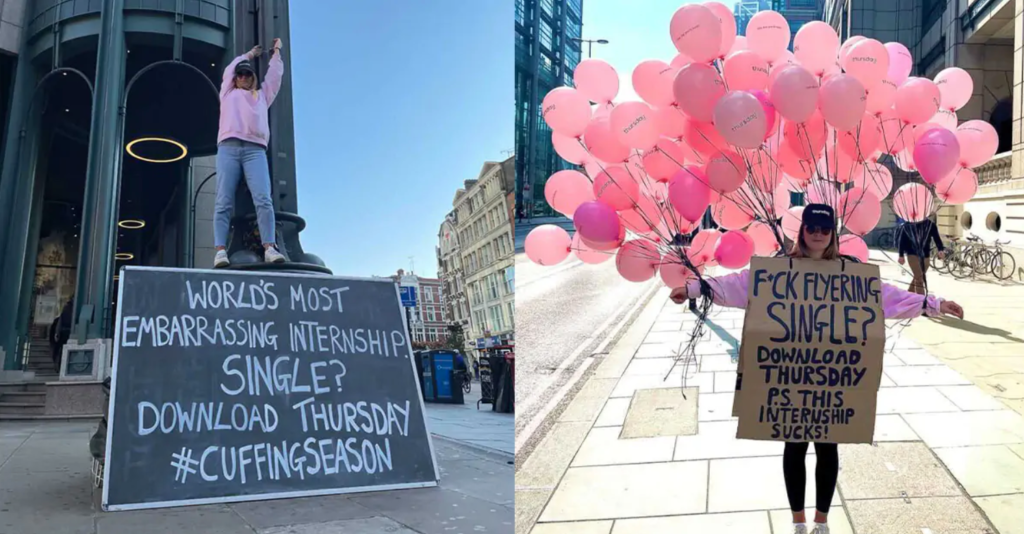 How did Thursday explode on Linkedin?
Interesting is where the guerrila marketing stunts went viral – not TikTok or Instagram, but LinkedIn, proving any platform can launch a new product if there are enough people watching!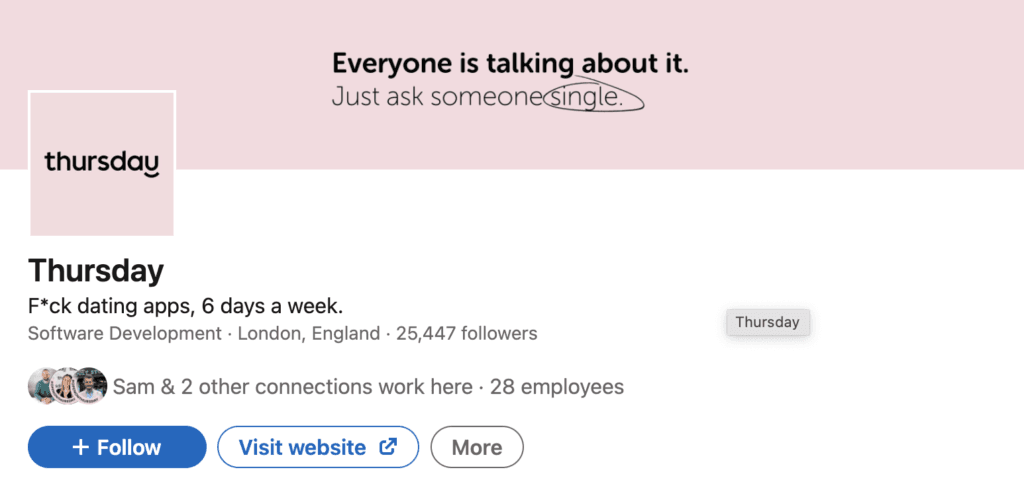 With over 25k followers since its launch, Thursday sure knows how to use any platform to their advantage! They used simple, yet effective copy and campaigns to build users.
The dating app Thursday issued a call to LinkedIn users to come up with the copy to fill its empty billboards, the stunt received hundreds of submissions. At the time of writing, the post by its CEO and co-founder George Rawlings had received over 600 comments. In it, he wrote: "A brand is no longer what we tell consumers it is, it is what consumers tell each other it is."
Thursday's tube campaign starts here. On LinkedIn.
Thursday's tube campaign starts here. On LinkedIn. 💡

There are no words of how cool this is going to be. 😎

Because they haven't been written yet. 🤷♂️ Literally.

LinkedIn will decide what's said. ✍️

Not us. 

If your copy is chosen, we'll credit you on the ad itself.

Pink background.
Black writing.

Btw this for a dating app that works 1 day a week.

Shoot your shot x

P.S a brand is no longer what we tell consumers it is, it is what consumers tell each other it is. 💭

#WritersBlock

https://www.linkedin.com/embed/feed/update/urn:li:share:6919581874826661888

This was the result: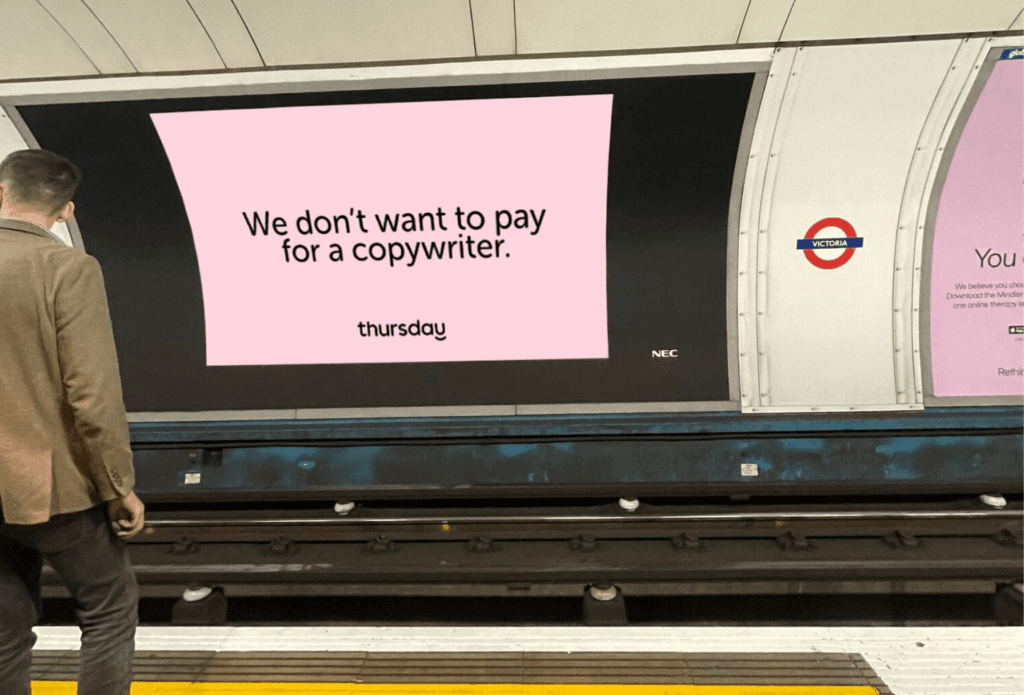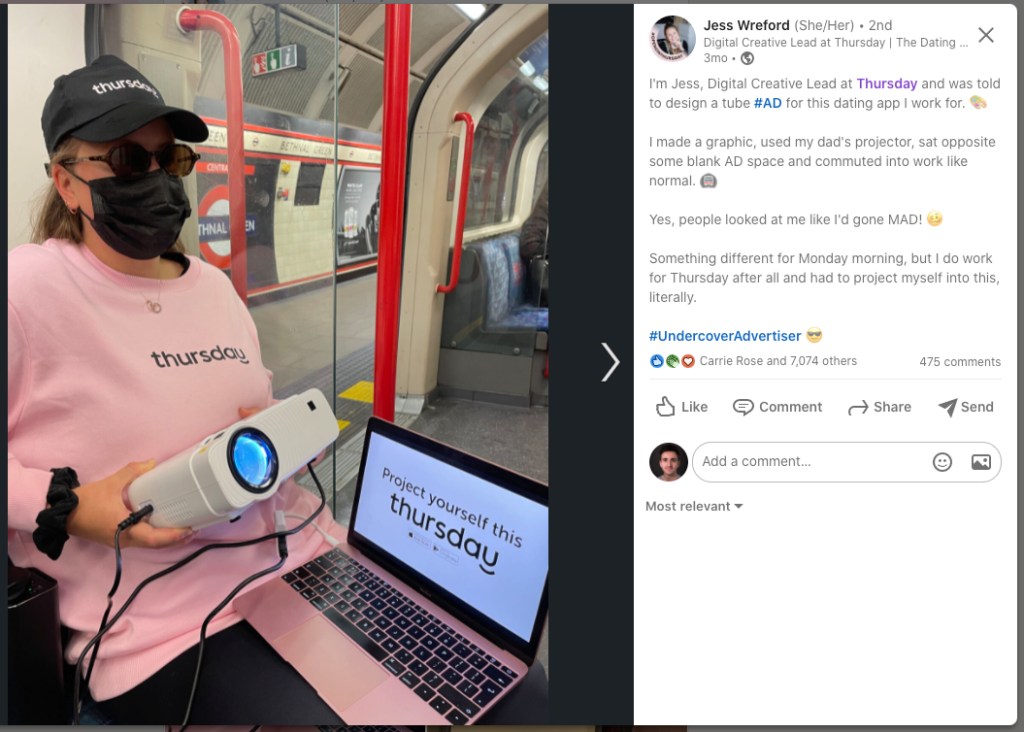 Documenting these efforts (and their journey) on LinkedIn worked even better. It was a very integrated approach. Many brands are actually doing it these days. Outdoor*** advertising can yield successful results for you if combined with the wonders of online ***marketing.
In this way, Thursday has engineered attention.
Hirect, Cred, Square Yards are few brands who did outdoor ad campaign and then took the documentation of the same online for exponential results.
All of this finally resulted in getting picked up by press and attention of celebrities.
Stunts have always been part of Thursday's strategy – according to AdWeek, the company was known for it before its rebrand from its original name of Honeypot earlier this year. The success of the activity is a reminder that while social media is the key to raising awareness among Gen Z, there are many more routes to achieve that than simply designing the best meme or perfecting your paid social targeting.
What is Guerilla Marketing?
Guerilla marketing is about taking your audience by surprise and making an impact with non-mainstream methods. Compared to other types of marketing strategies, guerrilla marketing emphasises creativity and unconventional methods. In other words, guerrilla marketing acts as a magnifying glass for the impact of a marketing campaign.
Types of Guerilla Marketing
Outdoor Guerrilla Marketing. Adds something to preexisting urban environments, like putting something removable onto a statue, or putting temporary artwork on sidewalks and streets.
Indoor Guerilla Marketing. Similar to outdoor guerrilla marketing, only it takes place in indoor locations like train stations, shops, and university campus buildings.
Event Ambush Guerilla Marketing. Leveraging the audience of an in-progress event — like a concert or a sporting game — to promote a product or service in a noticeable way, usually without permission from the event sponsors.
Experiential Guerilla Marketing. All of the above, but executed in a way that requires the public to interact with the brand.
How Much Does Guerrilla Marketing Cost?
One of the things that make guerrilla marketing strategies so attractive for many companies is that it's cost-effective. Guerrilla marketing draws upon creativity and inspiration, instead of monetary investment.
Just like a guerrilla fighter, guerrilla marketers have to be crafty, artful, and rather innovative when developing good guerrilla marketing tactics. In a sense, they use low-cost and unconventional methods
How to create a Guerilla Marketing Campaign?
According to Rachel Yarnold, here are 6 simple ways to build your campaign:
Make it Clever.
Make it Dynamic.
Make it Memorable.
Make it Interactive.
Make it Subtle.
Make it Endearing.
👉🏻 Learn from the the Founder himself on "How to Fuel Guerilla marketing"
2. Traditional Media Marketing
When they're not hitting the streets, Thursday are investing in OOH advertising to get in front of their audience. But even these plain marketing techniques aren't very plain!
It may seem like a risky game to incorporate your competitors into your marketing strategy, but Thursday uses the big names to their advantage. Their immaculate sense of humour has certainly won over their audience, using the traditional marketing tactic of capturing attention of potential users on the move through the use of big, pink billboards. Visually, there's not much to write home about. But the messaging is where they excel. Here, they're not afraid to state the facts. Telling their audience that it's unlikely their product will work is pretty bold.
Nobody can point out your faults if you've already done it, and this level of vulnerability has the added benefit of building trust.
What is BillBoard Marketing?
A billboard (also known as hoarding in the UK) is a big outdoor advertising structure, similar to an oversized poster used to promote a brand, offering, or a campaign by displaying advertisements. Billboard marketing is a process of using large scale print and digital billboards or hoardings to promote a brand, offering, or a campaign.
Types of BillBoards
Digital billboards. A digital billboard displays varying images and text generated by computer systems and software. It can be set up to show running text, or you can change it up depending on the time of day. The ever-changing texts offer maximum impact and reach for specific audiences. For instance, a restaurant might promote lunch specials throughout the morning and early afternoon and dinner specials beginning at 3 p.m.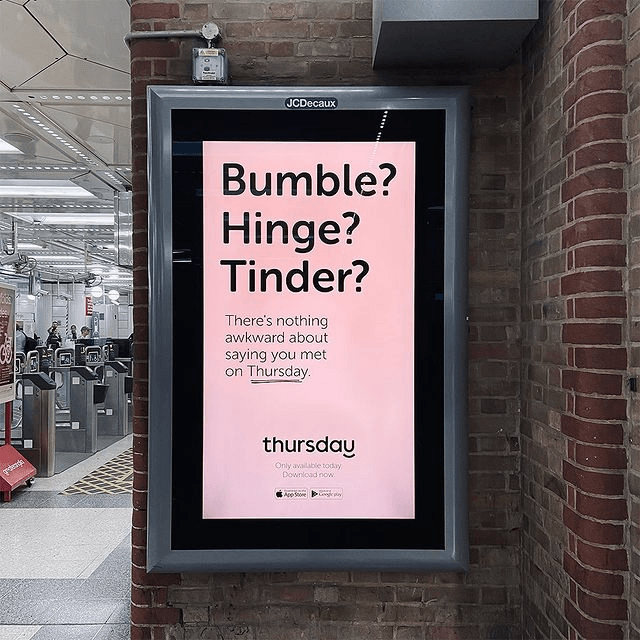 Mobile billboards. A mobile billboard is one that appears on buses, cars, and other moving vehicles. The advantage of a mobile billboard is that it is more likely to be noticed by your target audience. This is because the vehicle moves around the area you've chosen as a key location for promoting your company.
Static Billboards. Static billboards are made of large printed vinyl and stretched across the billboard's face. Here, a particular element in the billboard cannot be changed in a matter of seconds or minutes but must be re-erected and fastened to the structure.
Why do you use BillBoard Marketing?
Billboards are Affordable – While the production and print costs of a billboard can be substantial, the price is typically offset by the lower cost of long-term bookings, even in higher traffic areas. With billboards, there is no cost per click, either.
They Increase Online Interaction – Billboards are a trusted form of effective advertising with a wide reach. They're good for getting people to look up the brand or company online and interact with them there.
Drives Consistent Branding and Messaging – Since billboards are stationary and stay in the same place for a while, they're great at consistently getting across your brand's identity. The more people see the same messaging, the more they feel like they know your brand.
3. Event Marketing
Arguably, dating has lost its personal touch. People want to meet other people in the real world. Thursday knows this. Which is why they take over bars for dating events that take place — you guessed it — on Thursdays.
The company hosts AfterPartys each week, where it takes over bars in London and New York City for singles events. The idea is that everyone at the bar is single, another app feature that encourages singles to meet up in real life. A few guests said they exclusively use Thursday now, mainly for the singles events. Users don't have to pay to learn about AfterPartys or use Thursday's other features, either. Standard membership is free, and signing up gives users 10 likes to use on the 200 people they see on Thursday.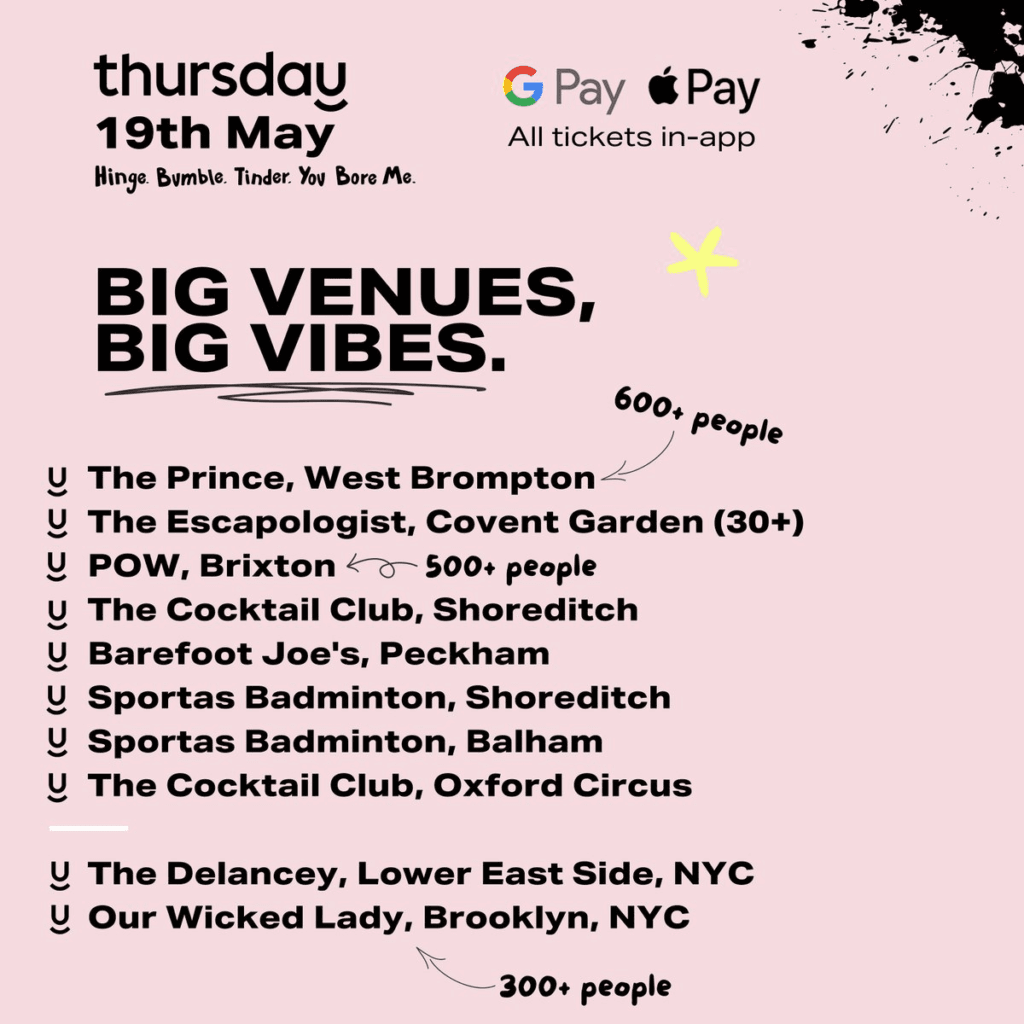 What is Event Marketing?
Event marketing is a promotional strategy that involves face-to-face contact between brands and their customers at events like conferences, trade shows, and seminars. Each event is different, it has different audiences, different content, and different culture. Therefore, it deserves to be marketed in its own unique way. To succeed, the event marketer of the future needs to stay on top of the event marketing game.
Types of Event Marketing
Event marketing is a broad term. For some, it refers to the promotional plan for an event, and for others it refers to the strategic use of events to market effectively. If the event marketing you do involves planning a calendar of events that will support your marketing plan, then your strategy and planning process will be more complicated and nuanced. For others, it's a promotional plan for a specific event that can be broken down into a more manageable plan.
Email Marketing
Event-based strategy
Event website
Advertising
Social media marketing
Search Engine Optimization
How does Event Marketing work?
It's like any other marketing but let's see this simple framework by Madison Howard:
Understand the goals and budget of the event.
Create a plan to meet event goals.
Set goals so that you can measure success.
Schedule promotion in advance based on important event dates.
Use discounts and sponsorships to increase attendance.
---
Why does Thursday work?
Thursday has been able to create a product that sticks in people's minds, showing an amazing ability to relate to their audience, building up a strong level of trust between brand and consumer. They're able to maintain this relationship by consistently updating all of their social media pages, finding new memes or trends to hop on, and addressing important issues that are experienced by daters around the globe. This consistency enables their audience to connect a particular colour, or typography style to a brand, proving that sometimes the simplest marketing techniques can make a big difference!
And Thursday is just owning their brand colour through consistency.
Thursday Stories
Sarah Kelly, 30, user of the app, looks forward to Thursdays each week. She's been using the Thursday events as an excuse to go out with her girlfriends, especially as she's busy working on the weekends.
"'Georgia, should we go?'" Kelly asks when the notification pops up each week, motioning to her friend there in attendance with her at the Tonight Josephine event, Georgia Freeman, 29.
The two have been to several Thursday events, motivated to have a good time at bars again because they're bored of small talk on dating apps and have felt robbed of time during the pandemic.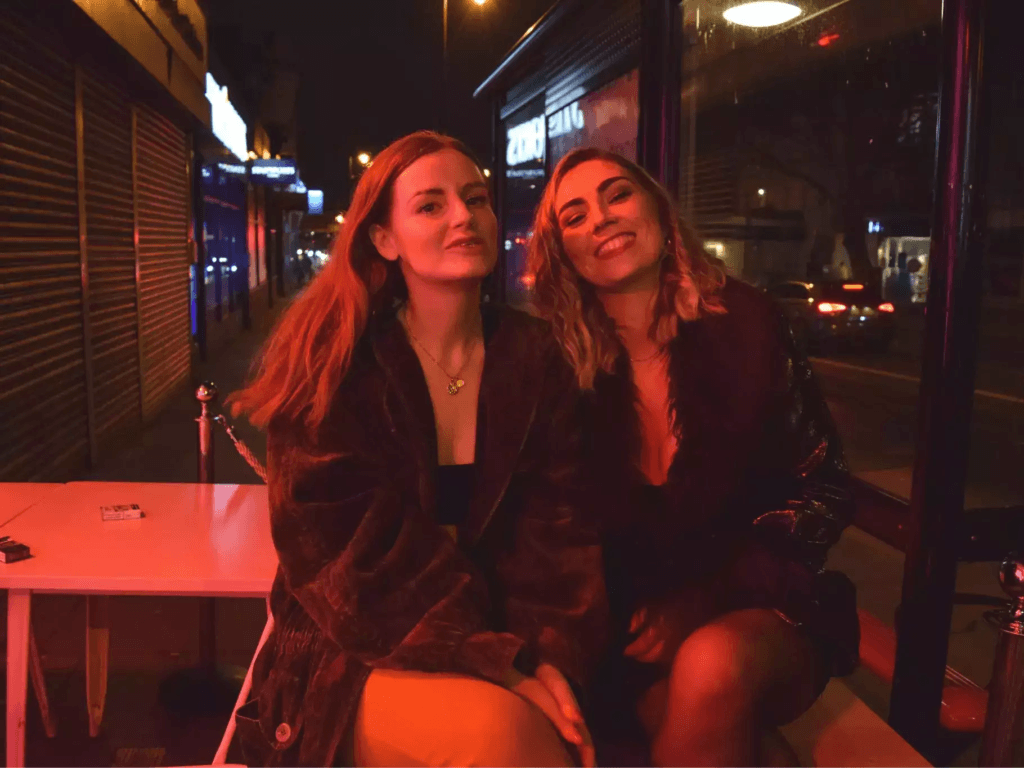 Adam, 24, came to Thursday's Tonight Josephine event alone, as he has at several of Thursday's events.
"I definitely feel like coming by myself will give me more opportunity to be able to meet someone new," he told Insider at the event. "Because I'm not coming over to spend time with someone that I already know."
---
Hot date with investors
However, It's not all cardboard signs, pink balloons and reactive marketing in London, in fact most of what the team at Thursday do is incredibly proactive. From ensuring people get home safe on the night tube via push notifications to hosting parties for singletons in venues throughout the city, Thursday is 100% on the 'ones to watch' list!
Thursday had raised a £2.5 million (~$3.5M) seed investment — a few months after launching (in May) its single-matching service in London and New York.
The round received contributions from several firms including Ascension Ventures, Connection Ventures and Best Nights VC, the investment arm of Jägermeister. Monzo Bank founder Tom Blomfield was also involved as an angel.
The new funds will be put towards making several senior hires and expanding into approximately 30 new cities across Europe.
---
What can we learn from Thursday dating app's marketing strategy?
Thursday dating app's marketing strategy have proven that, your target audience should be at the epicentre of everything your brand does, because if your product doesn't appeal to them, it's impossible to get far.
Once you've found a gap in the market and have been able to create an authentic brand identity that aims to tend to the user's needs, you can start maintaining a long lasting relationship with your consumers. This requires persistence, whether this be building trust through content marketing or using newsjacking to revolve posts around the latest trends. The thought of going viral sounds overwhelming, and often an unachievable task, but if Thursday has taught you anything, it's that you don't have to do big expensive stunts to make it happen.
And it's not always about budget. An Intern Doubled Dating App Thursday's Weekly Downloads With a $35 Budget.
👉🏻 Interns = the new influencer
An interesting tactic that's trending throughout social platforms like TikTok is the use of their interns as content creators for the brand.
Thursday implemented different strategies for engaging with customers, which [layed a key role for their success.
Marketing Lessons from Thursday's cofounder Matt McNeill Love to Start Ups
💡 "The major lesson I've learned is being resilient. Things can change very quickly and be out of your control, and you need the resilience to keep going. And interlinked is the idea that you shouldn't be afraid to try new things—it's OK to fail, and it's OK to put things on pause."
💡 "The other thing we've come to realize is that as a startup, you can't play it safe. You have to make noise."
💡 "The idea is that you don't need to compete with larger companies that do what you do. You don't need to play by their rules, and you shouldn't take yourself too seriously" – Braze interview with Thursday
Thursday dating app's campaigns aren't just creative ad plays. They fuel for creative social content marketing. They make people take actions, what ever campaign should do. They are campaigns with clear call to action. Creative campaigns that join the conversation and speak to the pain points of an entire generation.
Tone is absolutely everything. Companies/brands take years to develop a voice for themselves—this voice is used to structure brand identity. More often than not, brands develop the same voice that consumers have become tired of hearing.
Thursday Dating has overcome that by creating a cheeky and raw tone which stands in contrast to what you find throughout the marketing styles of other dating apps. Other dating apps talk about finding the love of your life in a more inspiring/serious tone.
Thursday isn't afraid to poke fun at the awkwardness of dating. They have a cool casualness about their approach that makes dating seem fun.
"If you don't find someone, try again next week."
Thursday Dating is proof that marketing is evolving, entertaining ads are winning, and disrupting the norm is a great way to garner attention. A brand is no longer what we tell consumers it is, it is what consumers tell each other it is. Thursday gaining traction, it's an interesting evolution of the dating app industry.
Thursday stands out in a saturated market of dating apps to offer an alternative approach.
In short if your marketing efforts should work
Know your audience – seriously, like really. Don't just speak to two people and say we know them.
Stay Consistent – Thursday continually comes up with the most random but effective PR stunts but they always have the same things in common: they all use the notable pale pink and black branding and distinctive tone of voice
Be Bold – Don't try to fit in. It's very crowded.
---
Looking to find your love, this Thursday?
Everything Design is a Bangalore-based communication design agency and we have an amazing team of content writers. Let's write you that copy that can help you win the love of your dreams!